Muscle cars are an American obsession that more Brits ought to indulge in, as these highly tuned coupés offer real thrills for relatively modest bills
I am not normally an envious man, but a photographer friend moved to the US several years ago, and when I see pictures of him flying his plane over vast Californian landscapes or down the Pacific coast, or working on his classic car in the sunshine outside his large garage, I do think 'yeah, I fancy a bit of that'.
The chief designer of the Jeep Wrangler once told me that, in winter in Michigan, he pops his snowmobile on the back of his pick-up truck, unloads it a short drive away from home and then can cruise for hour after hour on hundreds of miles of deserted track.
I'm not convinced about the healthcare costs, the risk of being shot or the predilection for plastic cheese with every meal, but there are definitely things about America that I could bond with.
Muscle cars with a shedload of power are another of them. Sure, we have modified cars in the UK, perhaps more diversely than ever. There's the old cliché that 'finance killed the scene', but there's still plenty going on these days. Earlier this month, there was a sold-out Reunion festival for cars of the Max Power generation, Volkswagens more than two decades old are 'slammed' as often as not and modifications haven't really gone away. But it's not quite as easy or popular here as it is in the US to buy Detroit muscle and a load of hot-up parts off the shelf, then find a garage in any given town to do the work and leave you with nigh-on 800bhp of V8 to the back wheels. That's supercar territory for executive saloon prices.
But if you're prepared to look, you will find it. In north London, that might be at Clive Sutton, that longtime purveyor of Americana, and such is its expertise and experience in the sector that it now even does the normal things, like a configurator, finance and a warranty for some of the wildest Ford Mustangs that your money can buy. Such as the one we have here, the new CS850GT.
We've driven a few of Sutton's Mustangs before, most recently one with a mere 800bhp. Yeah, I know: that's barely worth getting up for. This one, then, has even more oomph – 847bhp and 665lb ft – to make what Sutton says is the most powerful Mustang offered in the UK for those who would think Ford's own Shelby GT500 is a bit limp, with its paltry 760bhp, and a lot too left-hand drive.
Highlights of the CS850's 5.0-litre V8 include a Whipple supercharger, a vast intercooler, a dramatic-sounding active-valve exhaust system (from an even more dramatic-sounding Australian company called XForce) and some new engine management to make it all hang together.
Given that Sutton makes it easy for you to tick a few boxes and hand over £115,000, this is one of the more straightforward ways to get a lot of brand-new muscly Americana. But let me introduce you to Gary Handa and his rather different tack.
Gary wanted the latest Chevrolet Camaro (made since 2016), which is entirely understandable, because it looks sensational and goes like stink. But like you, me and most of the world, he couldn't officially have one. General Motors, a purveyor of lots of cars outside Europe but never really having much of an idea of how to make money on this continent, doesn't support this market or offer right-hand-drive cars in any sense, let alone specialist muscle cars, no matter how often it still promises to bring the new Corvette here.
Gary therefore bought a left-hooker and added the performance extras himself, which isn't entirely straightforward either, because if you buy a car that's too new, you can end up paying quite a lot of tax both in the UK and in the US. There are agents to do this for you and then help get it road registered. It's not that complex; it's usually just the tail-lights that need to change the way they work.
Having navigated all of that, Gary brought a 2018 Camaro ZL1 here, "because it isn't a Mustang or a Dodge Challenger and it just does everything so well". It has a 6.2-litre V8 to which Gary has ported the supercharger, changed the pulleys to make it boost harder and changed the exhaust so it now makes 770bhp and more than 737lb ft.
Those don't sound like world-shattering alterations, do they? Get more explosive gases in, get more spent gases out and tweak some electronics. No changes to internals or metal. But I guess these are big, not-very-stressed engines in the first instance. In obtaining 847bhp from 5.0 litres, at less than 170bhp per litre, the CS850 still has a lower specific output than that of the Ferrari F8 Tributo (which has more than 180bhp per litre), and it does rev to 7500rpm, after all.
We've got the muscle together not for a twin test in the conventional sense – metal versus metal – but merely to bask in the joy of what you can have if you look for it and, if pushed, to ponder how, if you would and you could, just how you should.
To the Mustang first, then, which I drive to our test track rendezvous. It feels wide on British roads, because it is, but it also gets suspension tweaks (to the springs, dampers and anti-roll bars) so loses much of the float and looseness of the standard Mustang and instead is keyed in, tied down. It's firm but never harsh, because it has a big body and there's still a degree of bump absorption.
On the road, though, and especially on track, the Cliveness is really all about the drivetrain. It starts with a short-shifter for the six-speed manual gearbox, which tightens that up like the suspension changes tighten the chassis. Then at anything above idle, there's the supercharger whine that dominates proceedings. It sings away at all revs and positively cackles if you're hard on the throttle, as urge tries – and often succeeds – to overwhelm the rear tyres.
Nonetheless, the CS850 isn't an entirely unrefined car in normal driving. It's still a grand tourer for the very reasons that Ford badges Mustangs as GTs. The seats are broad and comfortable, the ergonomics are good and, while there's always some engine drama happening, the lightly tickled interior, with its contrasting stitching, leather and Alcantara, is a chilled place from where to enjoy it.
On track, meanwhile, the CS850 is a total giggle. Compared with the standard Mustang, it in some ways feels not unlike the Aston Martin Vantage F1 Edition: much pointier at the front, owing to the fact that both the front and rear ends are better tied down, and then, with the right amount of power (you won't need all of it), entirely capable of punting the tail wide for laughs. It generally adopts an easygoing stance – the steering is heavy but feelsome and the wheelbase is long – so can be slid and held with the rear tyres on fire.
I didn't drive Gary's Camaro on the road, but I can tell you that it's equally a riot on a circuit.
The interior is probably more interesting than the Mustang's while ergonomically its equal and comfortable, even without bespoke modifications. The ZL1 comes with a 10-speed automatic gearbox, rather than a stick shift, yet still the experience is dominated by a special-feeling drivetrain rather than the chassis. And while in the CS850 the noise is all supercharger whine, in the ZL1 it's purely exhaust driven, despite more boost. It feels harder, louder and sharper – in short, old-school angrier. Ditto the chassis, which over ridges and edges rides with shorter, sharper body movements than the CS850. It steers more lightly but also more pointedly: you turn, it goes. There's no slack like in a normal grand tourer or muscle car: it's all sports.
There are two kinds of suspension available on the ZL1: standard magnetic dampers or fancy DSSV (dynamic suspensions spool valve) dampers from motorsport firm (and Ford GT manufacturer) Multimatic. Gary's car has the magnetic dampers, which are said to be more chilled than the DSSV ones, so heaven knows how tightly controlled the ZL1 feels with those, because it's already pretty solid and responsive even with these. It's a hardcore car.
Likewise in terms of straight-line speed. With its automatic gearbox and a power output that starts with a mere seven, you might expect it to feel positively wimpish compared with the Mustang. Not a bit of it: they're both sensationally, gigglingly, brilliantly fast, similar in thrills and pace but different in character.
They come to the same end from different starting points, and both are undeniably muscle. By doing things his own way, Gary has managed to save money compared with the more corporate route. He reckons that, all told, you can just take the dollar price for the car and components and, by the time they're here, call it pounds. He has spent about £75,000 on his ZL1, compared with a "from £115,000" for the CS850.
I'm not looking for a winner in this test. We don't all have the time or energy that Gary does, but the method does appeal to me. It's clear he has lavished a lot of time and love on his Camaro, getting it to look the way it does and feel the way it does. The CS850 feels less individual, which is a peculiar thing to say about a Mustang, given that they're rare and special in the UK in the first instance, even before they get bespoke modifications and 850bhp. And it's a very complete, very competent, well-rounded package: a proper product.
If it were my choice, I could more easily imagine my car's bonnet open, outside a big garage on a warm summer's evening, with a bunch of my own tools resting on the wing with the golden-hour sun warming my face, happy if envious of warmer winters and wider open spaces.
Gary Handa's modified Chevrolet Camaro ZL1
Price £75,000 (estimated) Engine V8, 6162cc, supercharged, petrol Power 770bhp Torque 737lb ft Gearbox 10-speed automatic Kerb Weight 1760kg 0-62mph 3.5sec (estimated) Top speed 180mph (estimated) Economy 20mpg (estimated)
Clive Sutton CS850GT Ford Mustang
Price £115,000 Engine V8, 4951cc, supercharged, petrol Power 847bhp Torque 665lb ft Gearbox 6-speed manual Kerb weight 1720kg 0-62mph 3.5sec (estimated) Top speed 180mph (estimated) Economy 20mpg (estimated)
More American temptations
Dodge Charger SRT Hellcat: Dodge's 6.2-litre Hellcat V8 engine makes 717bhp before aftermarket tuners turn their attention to it. In the Charger, Dodge melds it to a four-door saloon platform, so you can scare the heck out of quite a lot of passengers for just $74,720 (£54,610).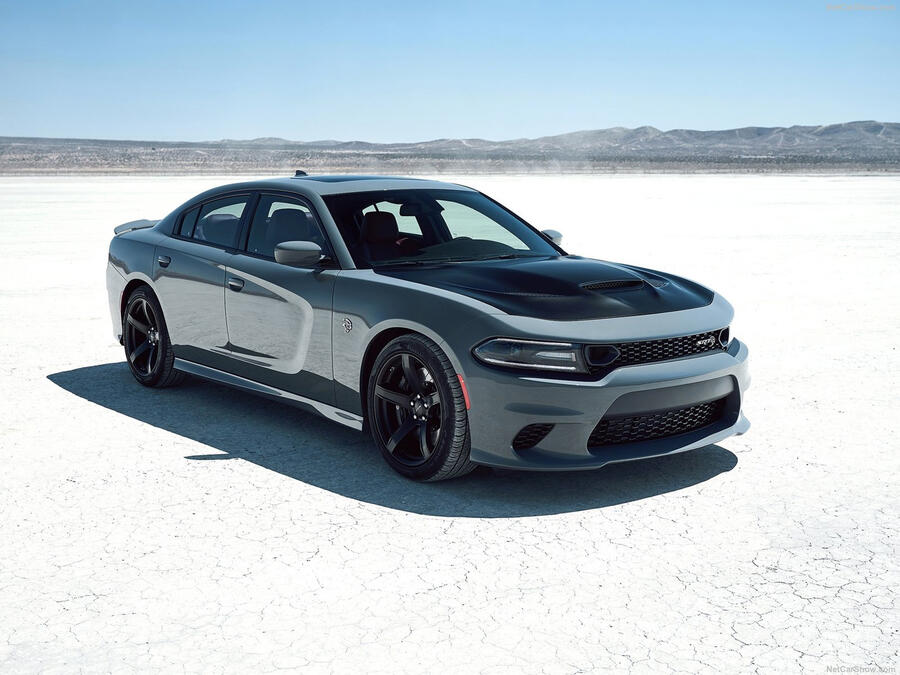 Ford Mustang Shelby GT500: Ford's own superfast Mustang lacks RHD but does get a lot of grunt: 760bhp and 625lb ft. That's small beer by the standards of the CS850, but it's the authentic thing, if that matters to you. The V8 has 5.2 rather than 5.0 litres and the price is $72,900 (£53,270).
Hennessey Venom 775 Supercharged F-150: Muscle isn't for cars only. Ford's F-150 truck has a 5.0-litre V8 with 400bhp, to which Hennessey adds 375bhp via a new supercharger, intercooler, engine management and throttle body. Torque climbs from 410lb ft to 685lb ft. Only 100 will be sold for $110,000 (£80,370).