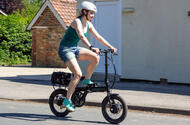 The Perry Ehopper claims to be the lightest electric folding bike on the market, at 14kg
Designed for commuters and urban riders – but can it really rival a Brompton for half the price?
Perry Ehopper 16" Electric Folding Bike
What does it cost?
£1499, which puts it beyond a 'budget' price point, but which is almost half the price of the Brompton electric equivalent.
What is it?
The Perry Ehopper is a sleek electric folding bicycle. It's marketed as the lightest electric folding bike on the market, at 14kg. To put this into perspective, that's approximately 4kg lighter than the well-known folding bike brand Brompton's electric equivalent. It's also compact, folding into 780mm by 580mm, which makes it small enough to be put into a car boot or taken onto a busy train.
Folding the bike is done in five simple steps, which Perry claim takes under 10 seconds. Essentially, the bike has quick-release folding points on the frame which allows you to swing it into its folding state. It's then held together by strong magnets which stop it from coming apart when carrying it. An additional plastic latch as extra security would be welcome, but for the most part it stayed put during testing.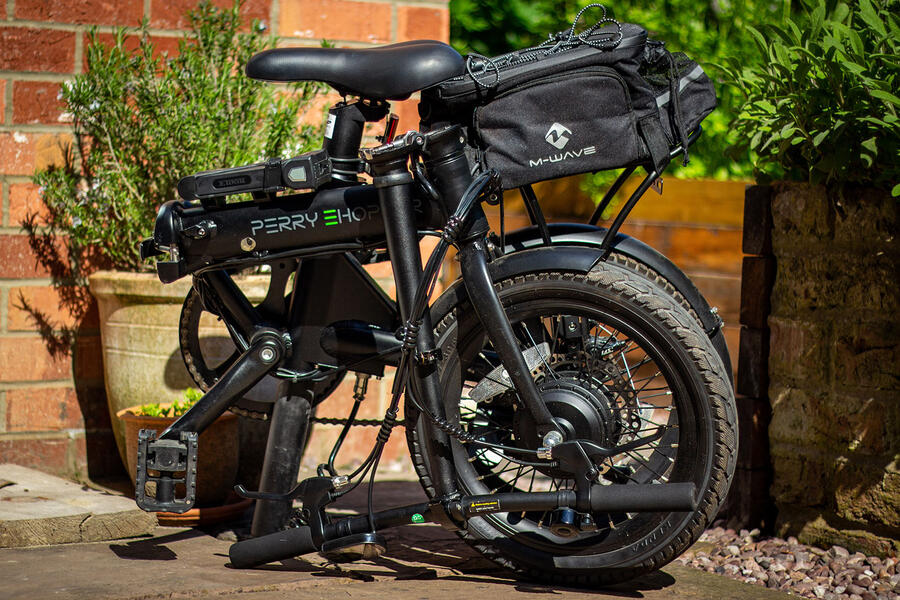 A 250W front wheel hub motor supplies assistance to the bike and the batteries are neatly hidden beneath the seat saddle. 30lb ft of torque provides quick acceleration to the small 16" wheels, and wide 2.235" tyres provide stability and comfort on the road. Five modes of assistance are available to use, which you can adjust on the handlebar-mounted screen. The battery is charged quickly in between three to four hours, promising between 12.5-31 miles of range depending on the modes used.
Instead of multiple gears, the Perry Ehopper uses a single-speed setup with a 52T chainring and 14T cog at the back. If you live somewhere extremely hilly you may struggle on the climbs, but as it's not designed to be ridden up Holme Moss, it is a decent ratio for the majority. 160mm mechanical disc brakes offer considerable stopping power but are an interesting choice given the typical weight penalty over rim brakes.
What is it like? 
The Perry Ehopper is a capable and convenient way to get you from A to B with less effort than an unassisted bicycle. If you're looking to speed up your commute or ride to the train station without breaking a sweat, the Ehopper is an ingenious bit of kit.
One particular brilliance of the Ehopper is how easily it folds. Like many folding bikes, it does require adjustment to the saddle height so be wary of this when you unfold the bike, but once you've figured out the process, it does only take ten or so seconds to get it in a transportable condition. This and its compact size means it's ideal for taking on a train or bus without worrying about taking up space.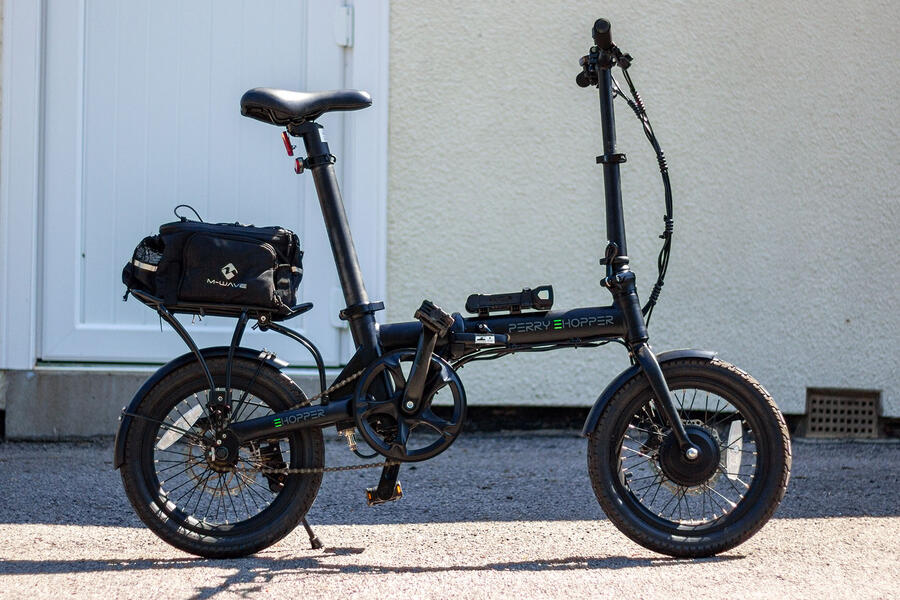 The ride itself is relatively smooth thanks to the wide tyres, although there was a confidence-sapping creak from the joints of the bike every time it rode over a bump in the road. There is only one frame size, which can be limiting if you're above average height, but the bike's fit is adjustable through the stem and saddle height. At 170cm this tester found it was adequate, but another rider at 180cm struggled to find enough saddle height.
The Ehopper comes with five assist modes and will aid with speeds up to the legal limit of 15.5mph. In a flat, urban area, you probably won't need to crank it up, but if you live anywhere with hills, you'll probably find yourself using the highest level quite often. It struggled on inclines as a result of the low power of the battery and the small wheels. The assist, however, does kick in quite quickly, which makes it great for setting off from traffic lights or junctions, with barely any lag.
The screen on the handlebars provides you with information such as mileage, assist level, and battery level. Perry has even included additional items that take it from a convenient bike to something extremely practical; there's a pannier rack, a bag, mudguards, and lights. The test bike even included a lock, which is thoughtful for those quick stops at the shop – or bakery, if you're of the same mindset as this tester.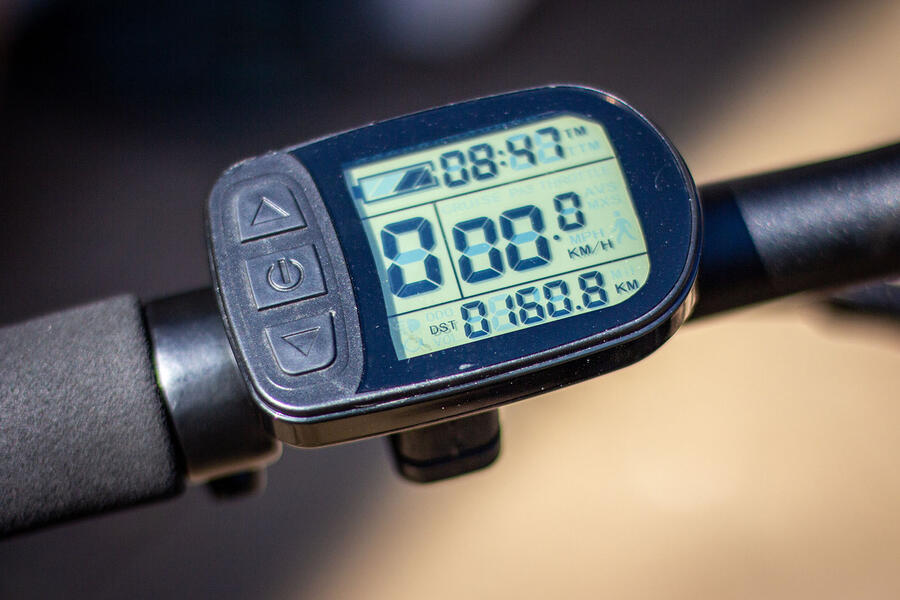 Should I buy one?
Lightweight, compact, and easy to use, the Perry Ehopper ticks all the boxes of a commuter electric bike at a reasonable price point.
The single size could be an issue for taller people, but there are levels of adjustability to be had. An alternative to more expensive brands, the Ehopper will make your journey easier and more enjoyable without the need for any specialist cycling kit.
Perry Ehopper 16" Electric Folding Bike verdict – 3/5 stars
It's lightweight and great value for money, but the ride quality leaves a little to be desired. With a few tweaks, possibly including a higher battery output this could be a seriously nifty urban bike but at the moment it struggles when faced with hills or headwinds, so recommended only for those that live in the flatlands.
Where can I buy it?
You can buy the Perry Ehopper from reputable outdoor retailers such as Go Outdoors, Blacks, Millets, or directly from the brand here.
How does it arrive?
It arrives almost fully assembled, you just need to unfold the bike and adjust it to your height. All the adjustments are quick-release so you don't need any specialist tools.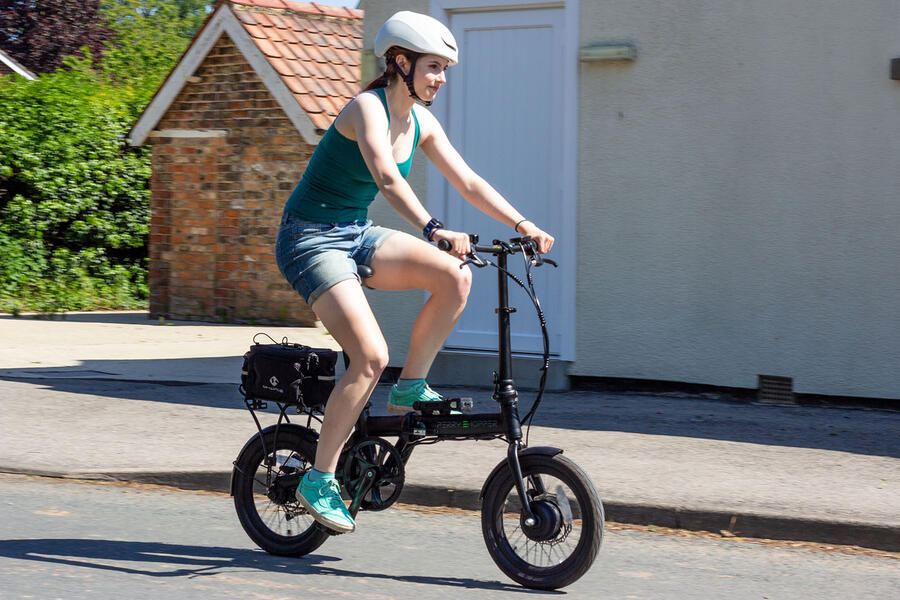 Perry Ehopper 16" Electric Folding Bike at a glance
Cost £1499
Frame size tested One size
Weight of bike 14kg
Groupset Single-speed, Pro-wheel 52T, Flywheel: 14T
Wheels/tyres 16" wheels, Kenda 16" x 2.125 tyres
Motor 250W brushless geared DC motor, 30lb ft torque, 5 modes
Battery 36V 5.2Ah
Mileage range Between 12.5-31 miles
Assistance levels 5 modes, speed assists up to the legal limit of 15.5mph
Charge time 3-4 hours
Included extras Pannier rack with bag, pair of lights, bell, kickstand
Words and pictures by Rebecca Bland
This is one of a series articles set to be published by Autocar in the coming weeks exploring e-mobility under the Move Electric name, a new editorial channel created by Haymarket, our owner. We intend to cover electric cars, motorbikes, scooters, bicycles and more, as well as exploring themes around electricity generation and electric lifestyles. Content will include features, reviews and opinion. If you have any thoughts about what kind of content you'd like to read – or that you wouldn't like to read – please use the comments section below to provide feedback.​
READ MORE
E-bike review: Decathlon B'Twin Riverside Original 920 E Electric Hybrid
E-scooters: the future of city transport, or an urban menace?
Airspeeder: 8 things you need to know about the race series for flying cars…. that aren't cars