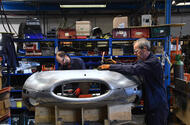 A thriving engineering firm is using rescued tooling and historic paperwork to help keep Britain's classic car industry on its wheels. We pay them a visit
We're standing in a surreal setting on the outskirts of Warwick, a football pitch-size compound filled on all sides with huge metal blocks piled to twice head height, most streaked with rust acquired from a life in the great British outdoors.
Each block has some sort of serial number on its side. Mostly the hieroglyphics are unintelligible, but a few carry the great names of British motoring: Jaguar, Rover, MG, Triumph. These are press tools from the past, used for making body panels back in the day, often employed again today by a unique company, British Motor Heritage (BMH), to make them again. Such a collection of weird shapes may not look much like a treasure trove, but that's what this is.
It's still early morning, so cars behind us in the street swish past as workers from adjacent businesses arrive for the day. A familiar exhaust rasp gets our attention as an MGB, a decent-looking red roadster, parks in a space across the road. The routine event has a particular poignancy: this 50-year-old sports car was so rust-prone from new that it must by now have needed comprehensive repairs to retain its health, and surrounding us are the very press tools likely to have produced this car's repair parts – or perhaps its all-new body. The irony is compelling.
This collection has been amassed over many years by BMH, saved from the defunct factories all over England and vital nowadays for keeping British classics on the road. Our guides to the collection are BMH's recently appointed managing director, Graham Payne, and Iain Taylor, general manager ofits Warwick-based panel-pressing partner, Taylor Pressform.
Between them, the two companies make the body bits that keep MGBs and MGFs, Triumph TR4s, 5s and 6s, Triumph GT6s and Stags, Morris Minors, all kinds of original-shape Minis and classic Range Rovers on the road. To cap all that, every week they make two or three complete new Jaguar E-Type bonnet assemblies, a complex, hand-finished structure that runs to 80-odd separate parts.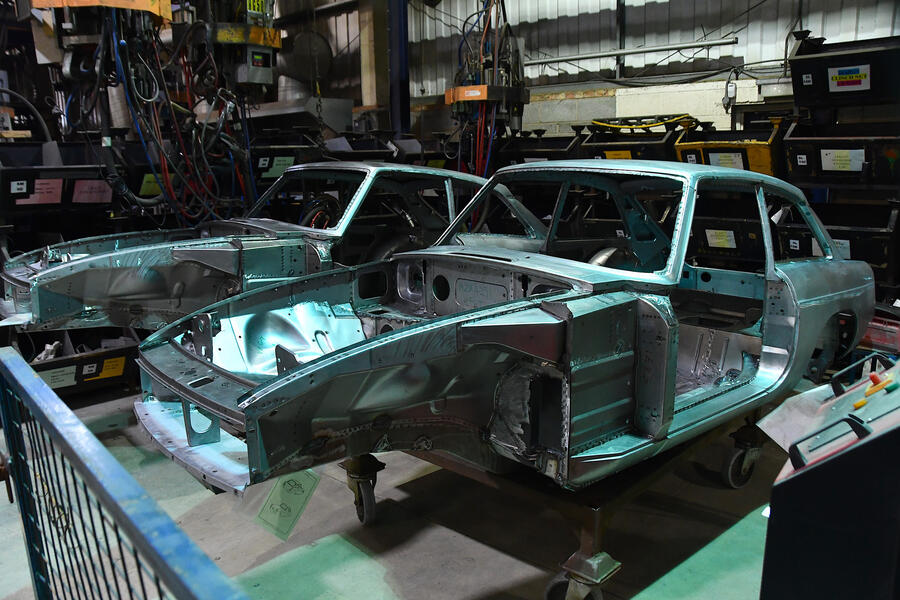 Today, we're on a tour with two parts. BMH's headquarters are in Witney, Oxfordshire, but Payne has suggested we start at Warwick to see the tools and to watch Taylor Pressform make some parts in real time, from original tools. Our other mission is to view the extraordinary array of historic plans, drawings, blueprints and documents BMH has inherited during its 45-year journey and which it is just beginning to digitise and organise. Then we'll go to the main manufacturing plant at Witney to see more stuff being made. It's my idea of a great day out.
The document cache is mind-blowing – and daunting in size. These papers, some a century old, have spent much of their recent years in four 40ft containers. Payne leads us past the steel mountains to what looks like an ex-MoD building at the back of the site, opens a heavily padlocked door and lets us inside.
The place is packed almost to the roof with files, cabinets and drawers, bulging with documents that surely tell a new tale of the British car industry's heyday. Payne estimates there are one million pieces waiting to be revealed, and he has begun a slow and steady campaign back at Witney to organise them all. They're homing in on sheet number 18,000, and many are buried treasure.
Payne guides us proudly to an extraordinary find, a plan of Rover's Solihull factory site that is so early it reveals details of workshops used for automotive jet engine research before the end of the 1940s.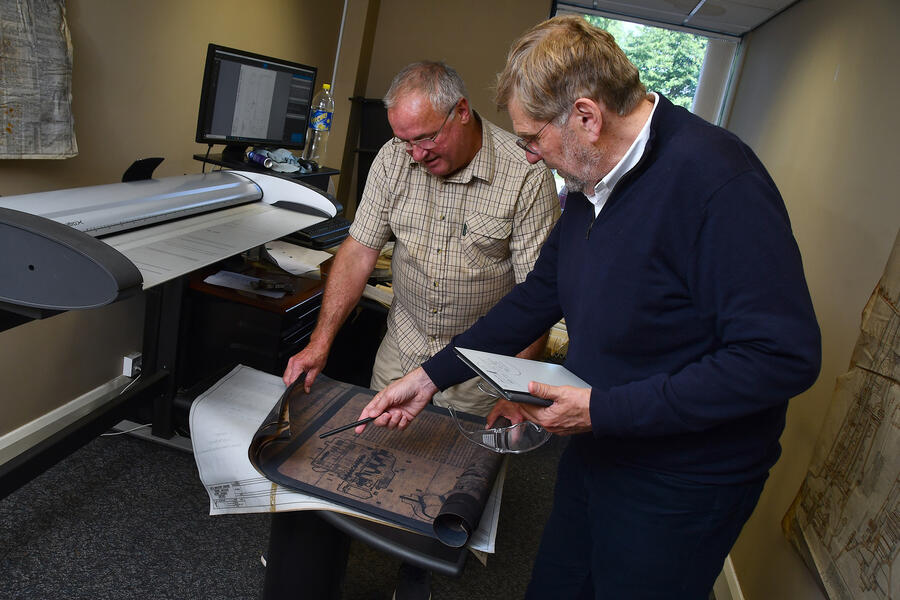 As well as viewing these remarkable documents, we're here for another purpose: to witness the reorganisation and expansion of BMH's business, led by a continuing strong demand for parts from agents around the world and from revitalised hands-on car repairers. Covid lockdown has created demand in two ways: by encouraging people to complete restoration projects they've been working on for years, and by feeding nostalgia for the 'good old days'.
Payne has an extensive career history in old car parts, having been chief operating officer at Rimmer Brothers and also citing previous stints at Bearmach and Unipart as well as a previous term as sales and marketing director at BMH. He was instrumental in setting up the original Jaguar Land Rover Classic Parts division, too.
Since taking the helm at BMH 10 months ago, Payne has upgraded the websites and IT systems, started making new products, set up the document digitisation project and reorganised many procedures, including communications with his 60-odd Heritage Approved parts specialists. He has also revised BMH's Tex-branded "wipers and mirrors" business and acquired trim maker Concours Carpets, whose assets include 800 carpet patterns for classic British cars.
"Our big problem at present is a chronic steel shortage," says Payne. "Material costs are very high, in some cases three times what we were paying pre-Covid. Another issue is the need to rethink our logistics: in many cases we'll have a demand for 50 parts a year, made with tools built to make 500 parts a week. A minimum at Taylor's is often 100, so we need to be clever about storing both tools and parts."
Over at Witney, an hour away if you're lucky with the traffic, things are thriving. Today, they're doing Mini bits parts and E-Type bonnets. Fronted by offices and a nice boardroom, BMH is really a metal-shaper's paradise, full of the sounds and smells of creative industry, with plenty of screens to spare eyes from welding sparks and flash. Lots of what they do is hand-finished; some of the country's most skilled artisans work here – and to judge by the happy demeanour of the people we meet, they are proud to do so.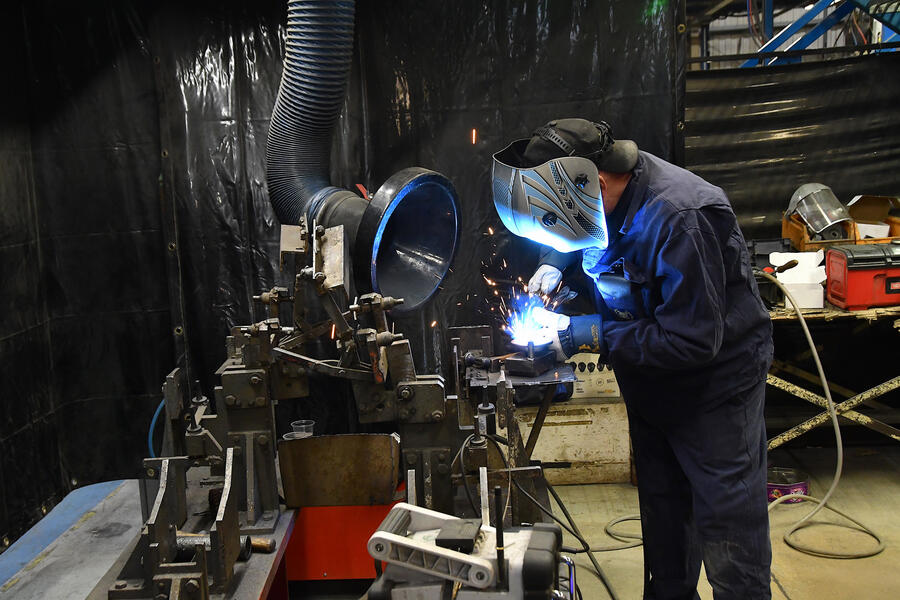 Complete bodies tend to be made in batches, 20 to 30 cars at a time, usually twice a year. Demand is reliable, says Payne. Suppliers book spaces in the next batch of bodies, which means the pieces are all sold at manufacturing time. That makes this a nice business – as long as you can get the steel.
"The biggest market demand right now is for repair panels," says Payne. "We're getting lots of orders from people who want to finish projects they began 20 years ago. Since Covid, we haven't stopped – it's not as if you can take your work home in our business – and the worldwide market has been consistently strong."
BMH is well into its fifth decade, having been founded as a division of BL in either 1975 or 1979, depending on who you ask. For a while it was viewed as a profit-earning arm of the British Motor Industry Heritage Trust, now the British Motor Museum at Gaydon, but that link was severed long ago. BMW also owned BMH for a while but stepped away in 2001.
One name that comes up is that of David Bishop, who led BMH into the 2010s but whose greatest contribution was his penchant for combing defunct UK manufacturing plants for discarded tooling that he knew would come in handy again. Many of his treasures reside in that compound in Warwick with the MGB parked outside.
What of BMH's future? Payne says he has no specific production targets because demand is relatively reliable and predictable. BMH has an annual turnover of £5 million and since 1991 has made countless thousands of repair panels plus precisely 6274 complete bodies, a total that includes 2009 for the three-year MGR V8 production programme. So far they have made 1717 'other' MGBs, 1177 Midgets and 865 Minis. Payne expects volume and demand to continue at current levels, along with around 120 E-Type bonnets a year.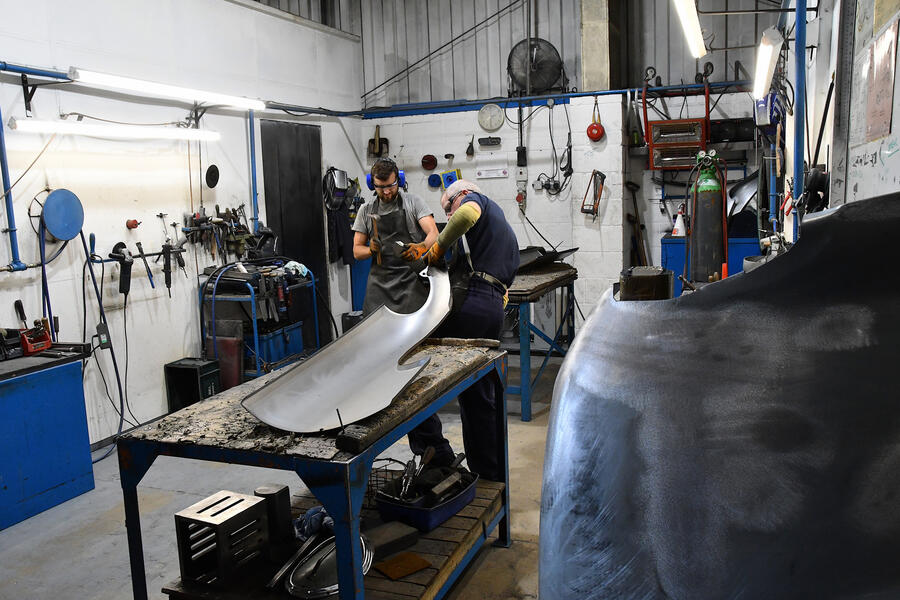 "We're concentrating on greater efficiency," he says. "We want to put what we do onto a secure basis with our top 50 products available off the shelf, with our specialists in closer touch and with our bills of materials in a nice, secure database. At present, so much knowledge lives in the heads of dedicated employees who've been here up to 36 years. That's great for now, but they can't go on forever."
Classic cars' future
What's ahead for classic cars? Is their future bright? BMH boss Graham Payne is extremely positive about it, negating popular predictions that interest in MGB-era classics will wane as the world's baby boomers drop off the perch. There's simply no sign of a decline, he says.
"Our statistics tell us that the biggest age group for restorers is 45 to 54 years old," adds Payne. "They're not all old men in sheds. Our traditional business, Midgets and MGBs, is strong, but we've also been boosted by demand for Mini parts, and there's absolutely no sign of that declining. The reverse, if anything. Rimmer Brothers, where I used to work, are also talking about year-on-year increases in demand."
Another new source of demand, explains Payne, comes from the growing number of remanufactured classics (every David Brown Remastered Mini starts with a BMH body shell) and from the fast-growing business in electrified classics – electric MGBs and others. Payne anticipates good growth for future demand.
So bright is the future, in fact, that BMH is having to future-proof itself. "Classic car demand will change," he says, "but it's not going away."