Luxury SUV's top-down revamp brings new platform, overhauled interior, long-range hybrid and potent BMW V8
Land Rover's bold new era has begun with the unveiling of the long-awaited fifth generation of its full-sized Range Rover. The flagship model has been completely redesigned, updated and upgraded in all respects and substantially electrified in line with the company's radical plan to slash emissions across its line-up.
The new Range Rover is making its motor show debut in Los Angeles following the culmination of a five-year, seven million-hour testing programme and ahead of its market launch in spring of next year. The reinvented Porsche Cayenne rival will spearhead a top-to-bottom overhaul of Land Rover's line-up, in which each model will be offered with a fully electric option by the end of the decade. The pure-electric version of the new Range Rover, which has been confirmed for launch in 2024, will be the brand's first all-electric model.
Revealed here in both standard and long-wheelbase forms, with the latter giving the option of seven seats for the first time, the reinvented luxury SUV is available to order now – from £94,400 in short-wheelbase form and £120,000 for the long-wheelbase – ahead of customer deliveries getting under way next spring. A range of petrol and diesel powertrains are also available from launch, to be followed in around three months' time by a choice of petrol plug-in hybrids.
DESIGN
The Range Rover's distinctive silhouette remains fundamentally intact, with a rising shoulder line, short overhangs, a 'floating' roof and a clamshell bonnet, but differences between it and the outgoing car are extensive.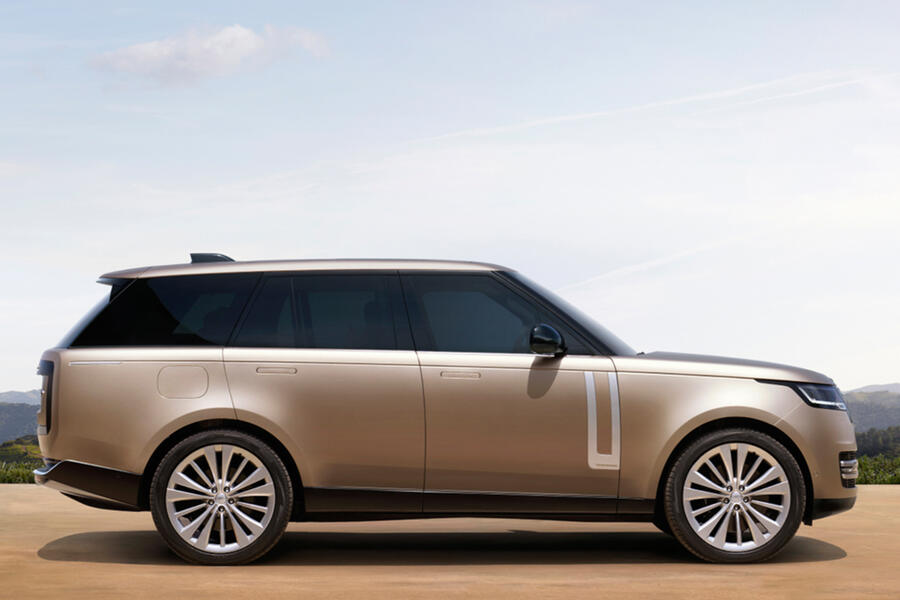 The most obvious differentiator is the addition of a sizeable gloss black panel at the rear, incorporating vertical brake lights at the side and indicators in a bar across the top, all of which are invisible when not in use. Land Rover says this new set-up will become a Range Rover "signature", suggesting it will eventually appear on the next-generation Evoque, Range Rover Sport and any Velar successor. The tail-lights are said to use the most powerful LEDs in existence, while at the front, each headlight cluster contains some 1.2 million individual mirrors that reflect light from a rear-mounted mirror. Each mirror can be turned on or off independently, giving a so-called 'shadow tracking' functionality that avoids shining any light at oncoming cars.
The new rear-end design retains a significant level of functionality and utility. The split-folding tailgate continues to operate as before, with the lower portion folding down and the rear screen raising up, while new features are aimed at adding "a sense of occasion to tailgate gatherings". A new movable panel in the boot floor (which conceals a hidden load space) can be folded up to serve as a backrest, turning the tailgate into a two-person bench, complete with drinks holders in the base.
The 'gill' motifs and grille of the old car have been redesigned, and the pop-out door handles first seen on the Velar give a sleeker look. A focus on increased aerodynamic efficiency is also evident in the Range Rover's new look, and as a result the new car has a drag coefficient of as little as 0.30, which represents a 12% improvement.
STRUCTURE
Jaguar Land Rover's new MLA 'Flex' architecture, which has been pioneered by the Range Rover, brings 50% more torsional stiffness and 24% less structure-borne noise than the underpinnings of the outgoing Range Rover, chiefly through the use of mixed metals and a set of 'rings' built into the body shell for maximum rigidity.
The structure is made up of 80% aluminium but with extensive use of steel in key areas for improved crash protection and sound deadening. Overall, the MLA structure is slightly heavier than its predecessor but, along with improvements in several crucial areas, it allows the fifth-generation Range Rover to be offered with both internal combustion and electric powertrains. This flexibility highlighted the need for improved rolling refinement: the electric and plug-in hybrid Range Rovers must be as quiet on the move as the combustion-engined models even without the background sound of an engine to offset intrusive road or wind noise.
The enhanced stiffness has been achieved even with a full-length, and standard, panoramic sunroof. Vehicle programme director Nick Miller said any loss of lateral stiffness caused by removing such a large piece of steel is cancelled out by the installation of a high-strength glass panel, which serves the same load-bearing function.
The structure has also been designed to maximise efficiency: so-called 'aero shields' run the length of the car's underbody to channel air efficiently towards the rear, and even the rear suspension elements have their own aero-optimised covers, which "deliver a controlled separation of the underbody airflow".
POWERTRAINS
There has been a shake-up of the Range Rover's powertrain offering: there are now no four-cylinder options, the plug-in hybrids use a completely new powertrain with significantly improved performance and the top-rung model swaps its supercharged 5.0-litre V8 for a twin-turbo BMW unit.
The range opens with a choice of 3.0-litre Ingenium straight sixes (two petrol, three diesel), all with 48V mild-hybrid assistance and power outputs ranging from 246bhp in the entry-level D250 diesel to 395bhp in the P400 petrol.
Around three months after launch, these will be joined by a petrol-electric plug-in hybrid option with a new 38.2kWh battery that has a WLTP-certified electric range of 62 miles, giving the Range Rover one of the longest electric ranges of any PHEV on sale. The new 'Extended Range' PHEV variant, based on a six-cylinder engine for the first time, offers combined outputs of either 434bhp and 457lb ft or 503bhp and 516lb ft, and is estimated to be capable of covering 75% of all journeys with the engine off, according to Land Rover's research.
It is also equipped with 50kW charging capacity, so an 80% charge can be achieved in less than an hour, while a brake regeneration system helps top up the battery – which is located under the floor for optimal weight distribution – when on the move.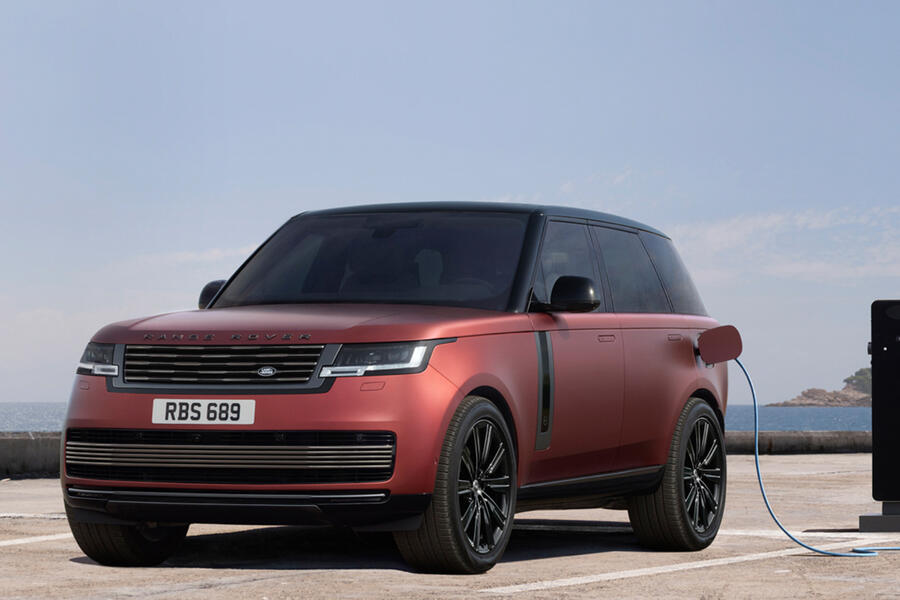 The line-up is capped by the performance-oriented V8, which now shares its motor with BMW's most potent offerings as part of a new powertrain-sharing agreement between the two firms. The new V8 model has 523bhp and 553lb ft, is capable of hitting 62mph from rest in 4.6sec and represents a 17% improvement in efficiency over the outgoing SVR-engined model.
Land Rover says it has been involved in the engine's development from the beginning, and that the Range Rover V8 has its own tune for unique performance characteristics. It also has a bespoke sump, air intake and strengthening ribs to ensure it can venture as far off road as the lesser-powered versions.
All engines are paired with an eight-speed ZF automatic gearbox with a low-range setting for towing and low-speed off-road driving.
CHASSIS
The new Range Rover's suspension and steering have been completely overhauled, and despite dramatic boosts in on-road refinement, Land Rover is adamant that its flagship remains as capable off road as it is on it.
A dedicated Wading mode allows it to drive through water up to 900mm deep (matching the much more rugged Defender), it has departure and approach angles of 29deg and 34.7deg respectively and it can drive at angles of up to 45deg. Ground clearance of 295mm can be raised a further 145mm in the highest of the model's four suspension settings.
On Tarmac, a 48V-powered anti-roll system with 1033lb ft (50% more than the torquiest system currently on the market) prevents excessive body roll under hard cornering. Standard all-wheel steering turns the rear wheels by up to seven degrees in the opposite direction to the fronts at low speeds, reducing the turning circle to as little as 10.95m, or roughly the same as a Volkswagen Golf. At higher speeds, the rear wheels turn in the same direction as the fronts for improved stability and faster responses.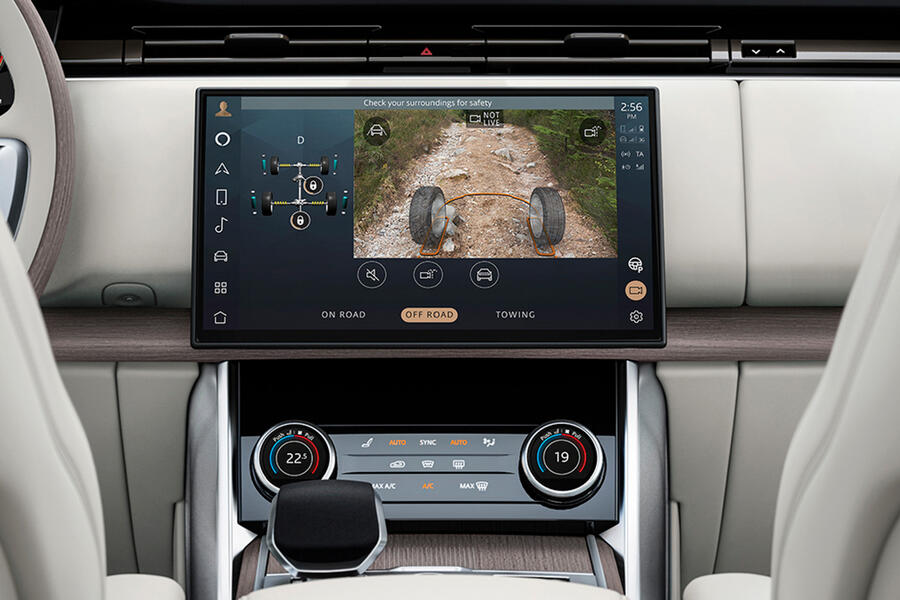 For the first time, the Range Rover comes equipped with a five-link rear axle, which allows for greater adjustability, while twin-valve Bilstein dampers, which can react to bumps within five milliseconds, offer fully adjustable rebound and compression settings. The vehicle automatically lowers by 16mm at cruising speed for improved aerodynamics, which Land Rover says boosts efficiency by as much as 2%.
The functionality of the Range Rover's air suspension has been significantly upgraded, with a new 'Integrated Chassis Control' system. This uses navigation data to predict bumps and imperfections in the road ahead at distancesof up to 1.9 miles and prepare the suspension to react accordingly. It can also mitigate weight transfer and body movements when accelerating or braking and prepare the car for emergency manoeuvres.
INTERIOR
Inside, a series of tech and material upgrades aim to keep the Range Rover in contention for luxury SUV supremacy.
A new 13.1in infotainment screen, which appears to float above the surface of the dashboard, hosts most of the primary controls and functions. It runs the latest generation of Land Rover's Pivi Pro operating system. It uses a customisable three-tab home screen giving access to 90% of functions in as little as two presses, and haptic feedback is now standard across the range. Over-the-air updates can be carried out away from the dealership, and it has its own battery so can be used immediately on entry to the car before the engine is started. Wireless smartphone mirroring and Amazon Alexa speech recognition are included on all models.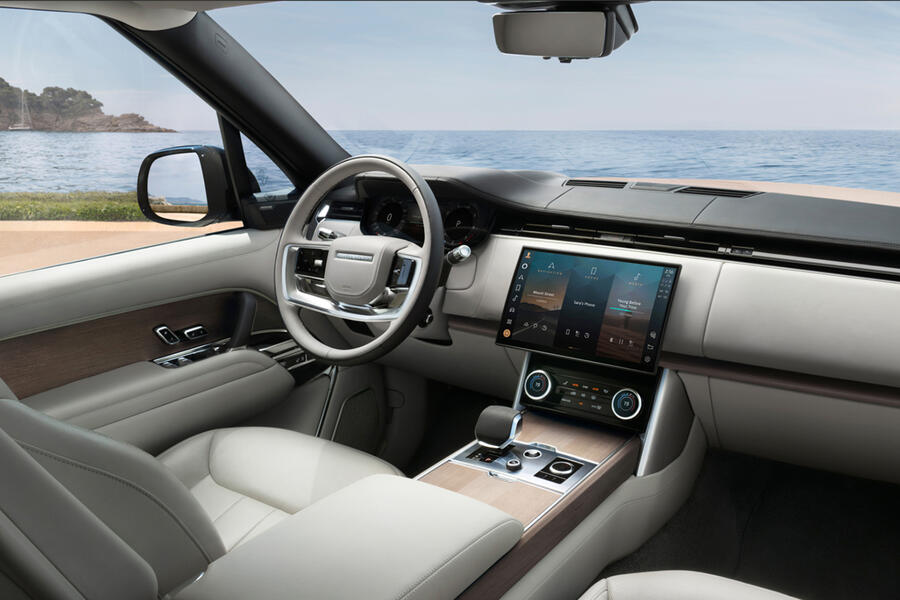 A new 13.7in high-definition driver display and uprated head-up display also feature, while in the back a pair of 11.4in touchscreens and an 8.0in touch control panel are provided for passengers.
The standard model is 75mm longer than before, at 5052mm, giving improved rear leg room, while the long-wheelbase option has 200mm of extra space between the axles. Leg room in the middle row is put at more than one metre in the longer model, and Land Rover says even six-foot-tall adults can sit comfortably in the new third row.
RANGE ROVER SV
The top-level Range Rover SV, developed by Land Rover's in-house Special Vehicle Operations division, has been revealed alongside the standard car but will arrive on sale around three months later.
With heightened levels of personalisation, the SV replaces the old car's range-topping SVAutobiography trim and is offered with a choice of four or five 'executive class' seats in both standard and long-wheelbase forms. In the rear of the four-seat car is a centrally mounted table that rises out of the centre console and can be folded and swivelled to suit either rear passenger. The dual rear touchscreens are also upgraded, to 13.1in.
In place of a central seat, the SV continues to offer a champagne fridge, which cools items more quickly and takes up less space than before.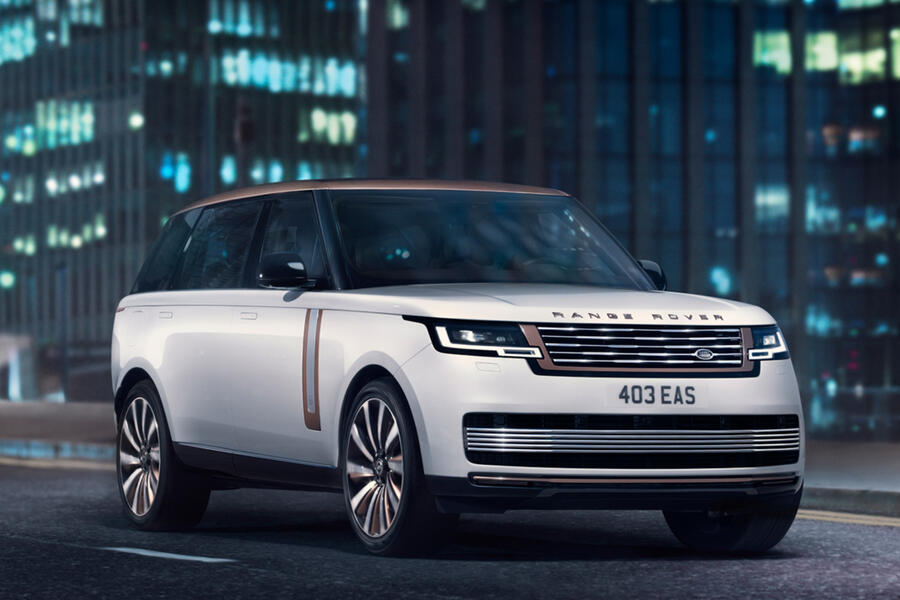 The SV is available with a choice of two design packs: Serenity, which offers materials and colours said to align with the Range Rover's inherent elegance, or Intrepid, which emphasises the car's "purposeful and dynamic character" and features dark metal-plated elements, optional red brake calipers and black inserts on the wheels.
The SV features 23in wheels, the largest yet fitted to a Range Rover, and has the option of a 'duotone' interior, with front and rear seats finished in different colours and materials.
WHAT'S NEXT FOR THE REST OF THE RANGE ROVER FAMILY?
Evoque: The current Evoque arrived in 2019 and is not due to be replaced until around 2024, when it will move on to the new EV-oriented EMA platform alongside the closely related Land Rover Discovery Sport. A tangible move upmarket is expected from the Mk3 Evoque, which is also set to be offered with a range-extender EV powertrain featuring a small-capacity petrol motor to bolster the reserves of its battery.
Range Rover Sport: Land Rover has yet to detail the new Range Rover Sport, which is likely to arrive around a year after the full-sized flagship. A prototype of the hot SVR version was recently spotted track testing, sporting a more rakish roofline and four beefy exhausts, hinting at its sporting intent. A similar powertrain line-up will be offered, but Land Rover's electrification plans for the Sport remain unclear.
Velar: The Velar arguably has a less certain future than the other models in Land Rover's portfolio. As JLR CEO Thierry Bolloré realises his plan of separating Jaguar and Land Rover with "two clear, unique personalities", it is likely the latter will consolidate its line-up to capitalise on its 4×4 heritage and positioning. That would make the road-focused Velar something of an outlier in its dealerships.