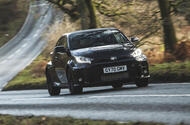 Essential journeys during lockdown just got a little less run-of-the-mill
Why we ran it: To see how easily a hot-shoe rally replica fits into daily life
Month 6 – Month 5 – Month 4 – Month 3 – Month 2 – Month 1 – Prices and specs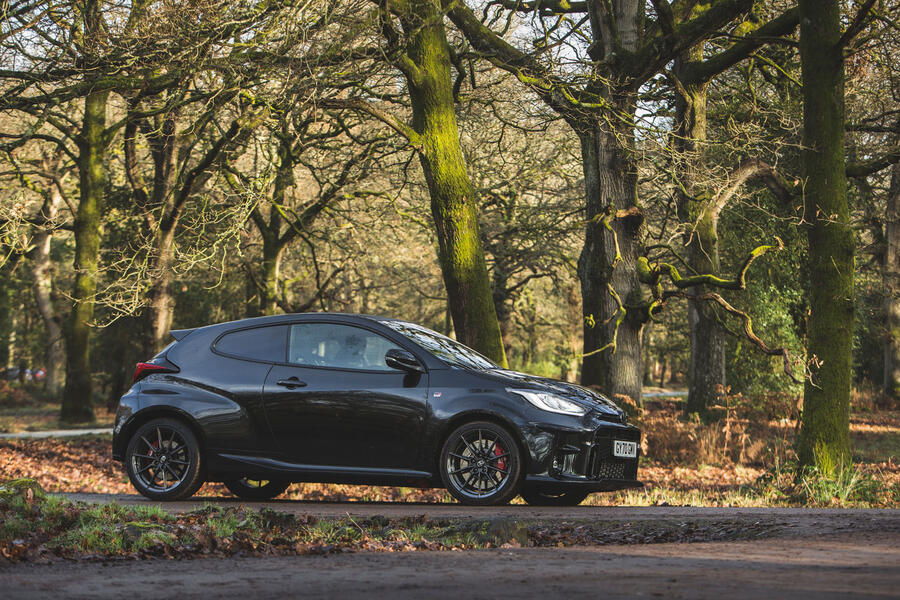 Did the hot hatch prove a busted flush after 10,000 miles? Spoiler alert: no, it did not – 14 July 2021
I'm about to have fewer conversations. After nearly 10,000 miles, the Toyota GR Yaris has returned to its maker, which means life won't continually be punctuated with conversations in car parks and fuel stations that start: "Ooh, is that the new…"
It is. The GR Yaris is the current 'it' car, and people either know about the GR and want to talk about it, or they have no idea and just think it's a regular Yaris – a situation that suits me nicely.
As you'll know, the GR Yaris is Toyota's rally-inspired hatch, a 258bhp four-wheel-drive three-door that receives huge changes over the regular production Yaris in its transformation to all-conquering sports car. And yet despite its stance and wide arches, the car isn't so flashy that it gets ogled wherever it goes like, say, a brightly coloured supercar would – which is good because sometimes those kinds of glances aren't complimentary.
The follow-up to the opening "Is that…" or "Nice car…" tends to be: "What's it like?" To which the answer is, obviously, brilliant.
Before this long-term test car arrived, the GR Yaris had won our Britain's Best Affordable Driver's Car shootout last autumn, and acquitted itself rather well against the less affordable opposition, too.
This Toyota then arrived in late December with 1630 miles on it and departs many more later having scored a five-star road test, gone quicker around a very short and quite wet circuit than a Nissan GT-R Nismo, and appeared in a bunch of features and videos.
In between times, it was superb daily transport. The thing about some really special cars is that they're a pain to live with. Its short, 6000- mile service intervals apart, the GR Yaris isn't like that. It's so compact that it's easy to use around town, and because its ride height is generous and overhangs are so short, you never worry about scuffing the nose on driveways or car parks. It's no wonder that I've had correspondence from people with big car collections who have picked a GR Yaris and just drive it every day.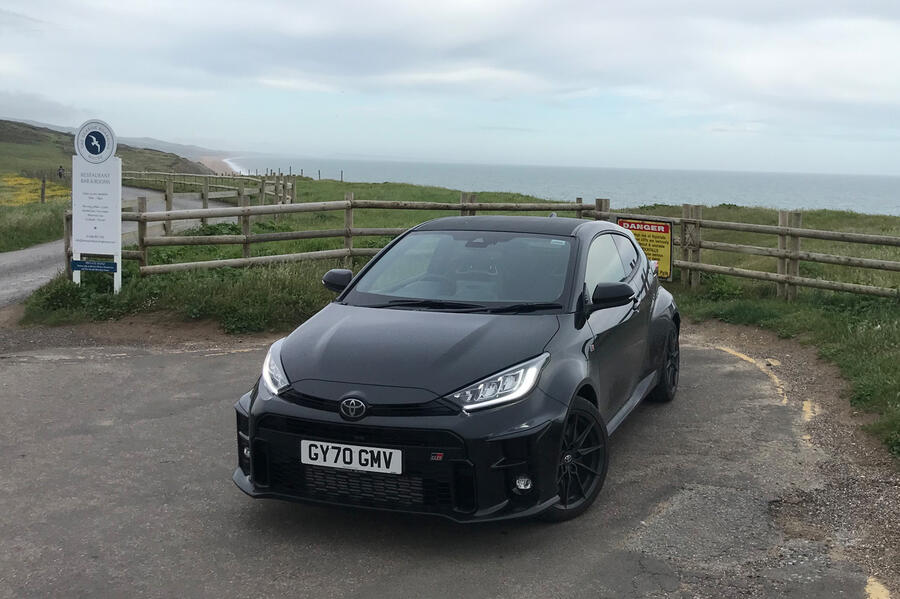 This car came with the Circuit Pack, a £3500 extra that brings with it stiffer suspension and locking differentials, and takes the list price above £30,000 (metallic paint, at £585, inflates the total price to £34,080). It seems to be an obvious choice for most GR Yaris buyers, but while our car was receiving its first service, I had my only go in a regular GR Yaris, which I found really enjoyable, too. It has more compliance on bad roads, which is sometimes quite welcome, albeit less adjustability to its cornering stance on account of the differentials not tightening the car's line.
If I was making the choice for real, I'd be quite torn: I think it would depend what else I had to drive. If the GR was going to be my visceral hit, I would spec the Circuit Pack. If it was a quick, entertaining but ultimately usable daily driver and my kicks came elsewhere, I might go without. (Alternatively, like one reader, you could buy both, see which you preferred and hand the other to a family member.)
Either way, it's a reasonably practical car. There's the ease of use, of course, but there's also just about room in the back for an adult behind the front-seat passenger, though four is a squeeze. And while the boot is small, and reminds you of its stripped-out credentials via the flimsy cargo net, the rear seats split and fold just like in any other Yaris, making a load bay big enough for a bicycle if you remove its front wheel.
Reliability and durability have been great. Toyota replaced the front tyres on this car at the 6000-mile service more out of prudence than anything. We had worn the shoulders through repeated heavy performance and track testing, but I'm confident you could do a few track days without bothering the tyres or brakes. Which is the advantage of a light car with modest power and relatively pliant suspension.
Nothing went awry and it used no oil. Not even an infotainment crash, although the fact that it doesn't have much is presumably an advantage. You can specify a Convenience Pack that adds such things as better speakers, a head-up display and sat- nav, but the standard unit will mate with a smartphone, and general road roar is sufficient that I don't think this is a car for the audiophile.
As with durability of consumables, economy is good for a car of this performance. Sure, use all of the throttle, a lot of the time, and you will see the 15.7mpg we returned while getting the performance figures of our road test (0-60mph in 5.2sec full of fuel and two people aboard, by the way). In normal driving, I frequently returned more than 32mpg and, if you spent lots of time below the 1.6-litre engine's turbo zone, at a very steady cruise in sixth gear, I think you would push over 40mpg if you wanted.
If you did, you might also look even more like a conventional Yaris driver, rather than one of the GR version. Chances are you won't want to do that, though. Or even if you try, you won't keep it up for long, because this car wants to be driven rather more briskly. The enthusiasm is infectious for the driver, not just bystanders.
Second Opinion
In June, we had the GR Yaris on a skidpan with some posher hot hatches that use torque-vectoring rear axles, and I loved its old-school, Mitsubishi Evo-style antics. It might not be the most authentic homologation car ever on paper, but it certainly feels that way when you uncork it.
Richard Lane
Back to the top
Love it:
Engine It's strong, and from low revs. Wonder what it'd sound like without its sound symposer.
Gearbox Six-speed manual is the only choice and it's a sweet-shifting one at that. Pedal weighting is great, too.
Infotainment Deprived of too many options, this is ideal. It just pairs with a phone and I want no more than that.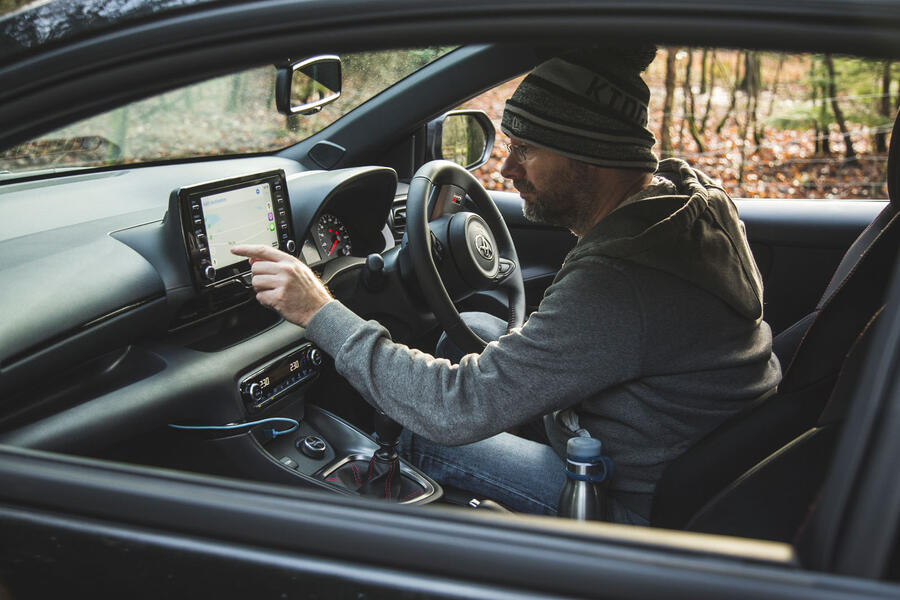 All-road performance The ride and handling are so deft that there are few more capable, fun and secure cars anywhere on Earth.
Loathe it:
Visibility Visibility is always a little hampered by a low mirror and a high seat, but aftermarket tuners can amend both.
Final mileage: 11,300
Back to the top
You're looking at what could be the most entertaining delivery vehicle in Dorset – 16 June 2021
There are dog walkers; pensioners who won't get out of their cars; and me. Hello from a Dorset seafront. The GR Yaris has had such an uneventful few weeks while I've been on ordinary commuter jobs that I thought it (and I) deserved an adventure. Or what qualifies as one these days.
So this morning, instead of heading to the Post Office to send a couple of family birthday presents, on a whim I loaded them into the Yaris's less than cavernous boot and headed south to deliver them in person.
I figured it would remind me of a few things so I could write this at the end of the drive. Discovery number one, then: the boot's ideally sized for a hedgehog house and washbag. (The birthdays have passed, so no spoilers here.) Probably a niche discovery, I'll grant you.
Thing of note two: the boot needs quite a slam. Sometimes, I'll close it gently, it'll definitely look shut, I'll get into the car and the dashboard will tell me it's still ajar. The other day, weirdly, the car only told me this once I'd driven five miles and was already on a motorway. Something might be up with the boot if it wants such a whack.
Thing three? Seaside towns really can feel desolate out of season, can't they? So I've parked facing the sea (and a bin). Which reminds me how much of the windscreen is occupied by the rear-view mirror. Apparently you can buy an aftermarket one, and also a device to lower the driver's seat. If it were mine, I'd investigate both.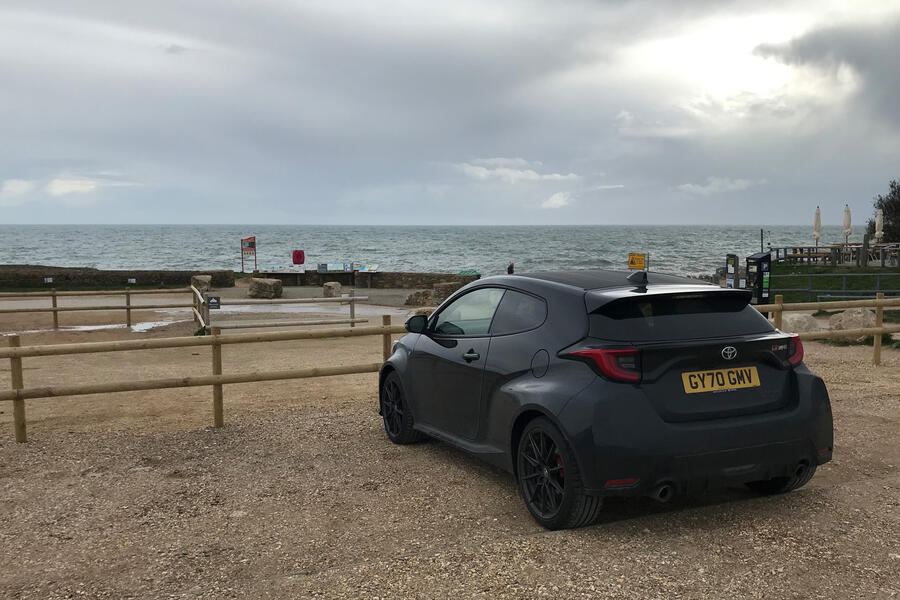 Also, when it's raining, rear visibility goes from average to terrible. There's no rear wiper so when the GR's window gets mist over it, which is pretty much immediately in the rain, it stays that way and your door mirrors are the only rear vision. This is, though, otherwise an exceptional wet-weather car. Its Michelin Pilot Sport 4 tyres resist aquaplaning superbly and, as in the dry, there's loads of traction.
The GR is also a great car on tight Somerset and Dorset roads. Some driver's cars, the sort with their engines in the middle and two seats, would be dreadful companions around here. But with a high nose, generous travel suspension and given it's so compact, there's perhaps no better companion on sale.
Thing five, six, whatever? Some of these dogs really are adorable, you know. But such a tie. And having to pick their stuff up in a bag. Nah. Maybe one day, but not today. It's getting dark. I've got chips to get before the journey home. And I wouldn't fit a pooch in the boot.
Love it:
Effective air-con Air-con gets 'Fast' or 'Eco' modes (or neither). I tend to leave it in neither, where it seems really quick to get to temperature anyway.
Loathe it:
Evening light show Not much of a complaint but dash lighting is sensitive of an evening – brightening, then dimming, depending on cloud and shadows.
Mileage: 9183
Back to the top
Seats down stowage isn't bad – 9 June 2021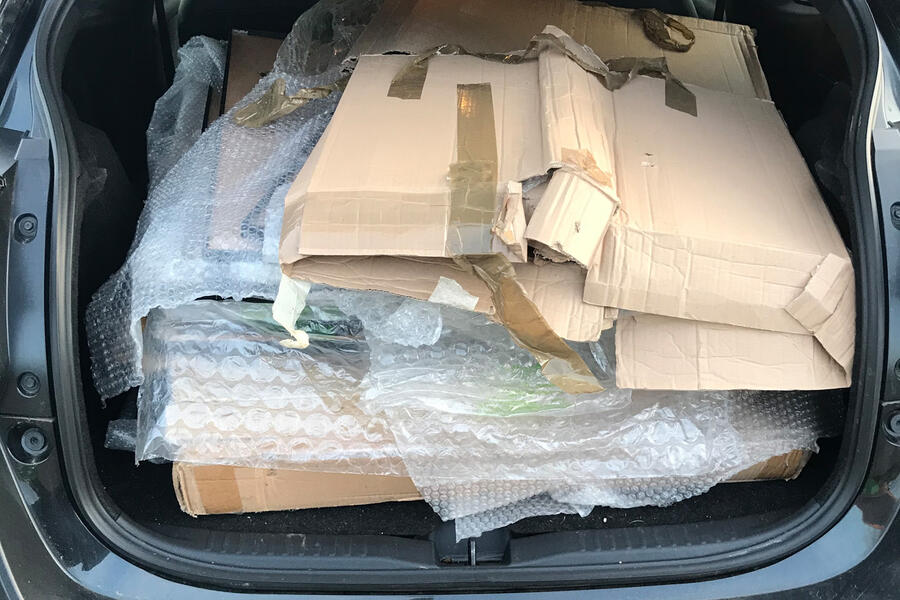 I recently had to pop to the office to collect a load of framed photos from a studio we no longer use. I was a bit worried about the GR Yaris's limited boot space: 174 litres seats up, rather than 286 for the regular Yaris, partly due to its battery and 4WD system. About 20 poster-sized frames went in with them down, and now I have some pics for my garage walls.
Mileage: 8970
Back to the top
Life with a GR Yaris: Month 5
Skidpan session reveals which of the three torque splits is best – 12 May 2021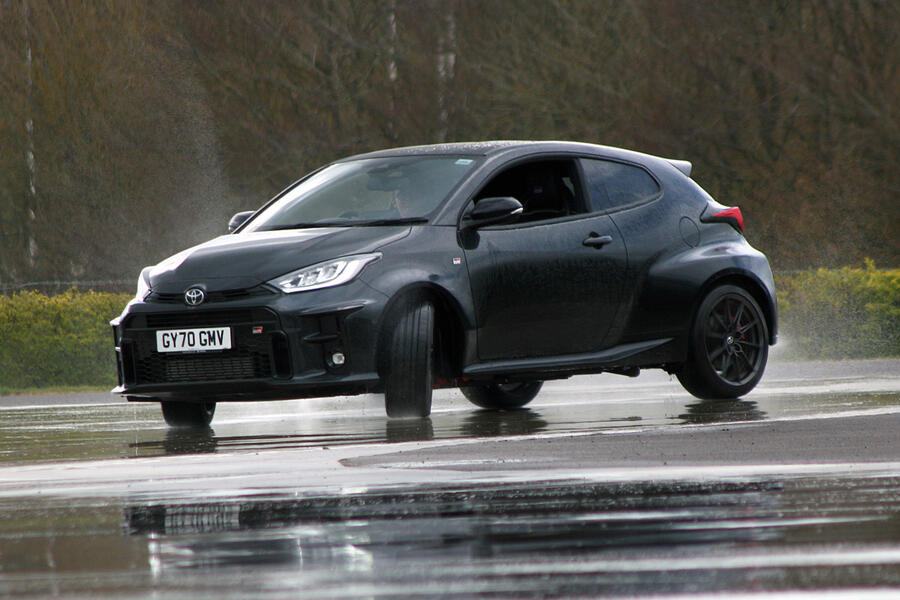 I've been looking for a firm chance to try out the GR Yaris's different drivetrain mode settings for the four-wheel drive system. In Normal, torque is slightly front-biased; in Sport, it's rear- biased; and Track splits it 50:50.
So I booked myself onto one of the 'socially distanced skidpan sessions' run by the armed forces charity Mission Motorsport (missionmotorsport.org) on the new low-grip hosed pad at Thruxton Circuit in Hampshire.
A session costs around £40; you get to play with your car's beyond-the-limit handling at very low speeds, fall off a bit and generally have a very nice time. My conclusion? Sport or Track modes are both fine and perhaps the GR Four system is, if anything, a bit more consistent in Track.
Interestingly, the Thruxton pad is so low-grip (and on a slight gradient) that you can't use your car's momentum or weight transfer to unsettle it; it all has to be done under power. That means it's a great test purely of a drivetrain and shows that the GR Yaris is keen to find grip, rather than give it away in powerslides.
The pad was great fun and they're lovely people. A recommended way to test your car and yourself.
Mileage: 7660
Back to the top
Life with a GR Yaris: Month 4
Who are you staring at? – 28 April 2021
Normally benign songbirds have been getting uppity around my vehicles lately. It seems that they become territorial in mating season so want a fight when they see themselves in a car or bike mirror. Unexpected bonus feature on the GR Yaris: its mirrors fold when it's locked, meaning fewer angry birds and less guano on the paint.
Mileage: 7025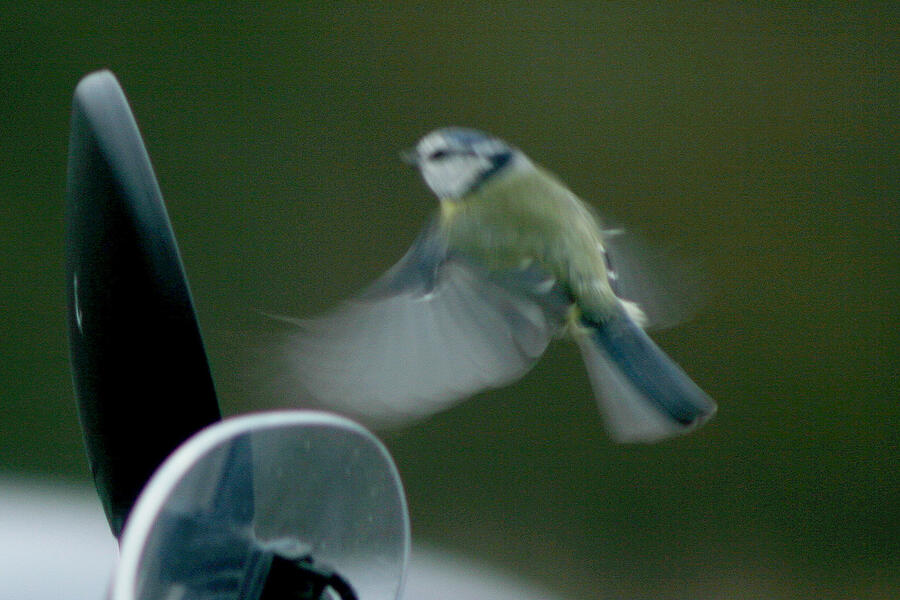 Back to the top
Pocket-size rally-rep puts on its housecoat and gets to work – 21 April 2021
I've had a spell without track or test days or long work drives in the GR. Which means it has become, of all things, a local runabout. A Yaris.
Appalling, I know, but it's pretty good at it. Space is limited in the back, so think of it as a three- rather than full four-seater. You can get a small person behind the driver, but scooch the front passenger seat forwards and an adult can sit behind an adult, although access is tight.
I tend not to fold the driver's seat forwards if I can help it, because it doesn't remember the backrest angle when you slide it back, meaning a bit of faffing about while you get comfortable again.
The rear seatback folds 60/40, giving a flat load bay. It's not a massive boot, but it'll take a mountain bike with the front wheel out. While you're there, a flimsy, lightweight fabric load bay cover they'd be too embarrassed to put on a sensible car reminds you that, yeah, this is all fine, but the car has other things on its mind. Like the skidpan drift day onto which I'm now booked.
Mileage: 6881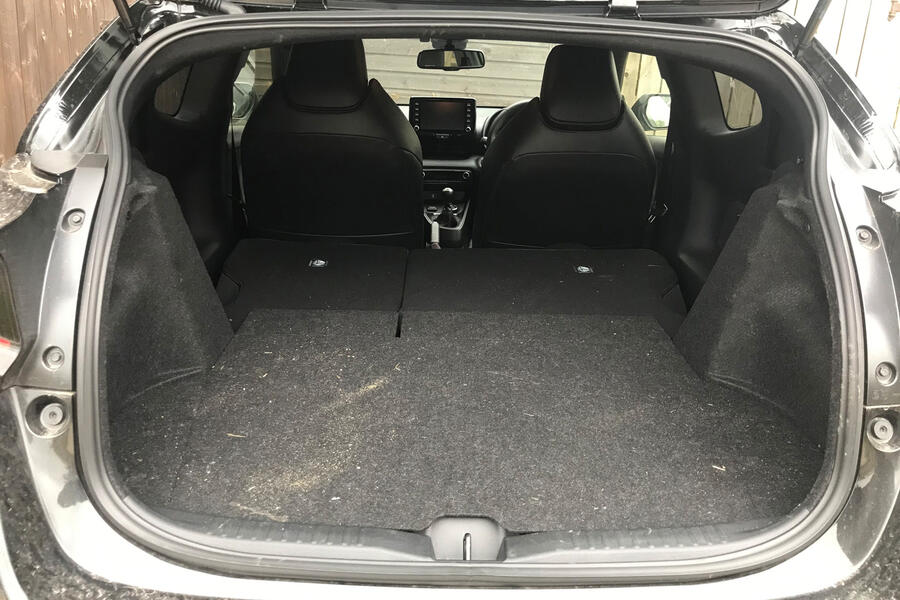 Back to the top
Shifting sensation – 7 April 2021
Easily forgotten in the GR Yaris are the buttons on the transmission tunnel for the engine start-stop, stability control (not really needed on the road) and iMT automatic rev- matching for downshifts. The iMT is quite effective but, apart from to see how well it works, I've never used it. It's too much immersive fun to match revs yourself, and once you're in the habit, it's hard to stop.
Mileage: 6632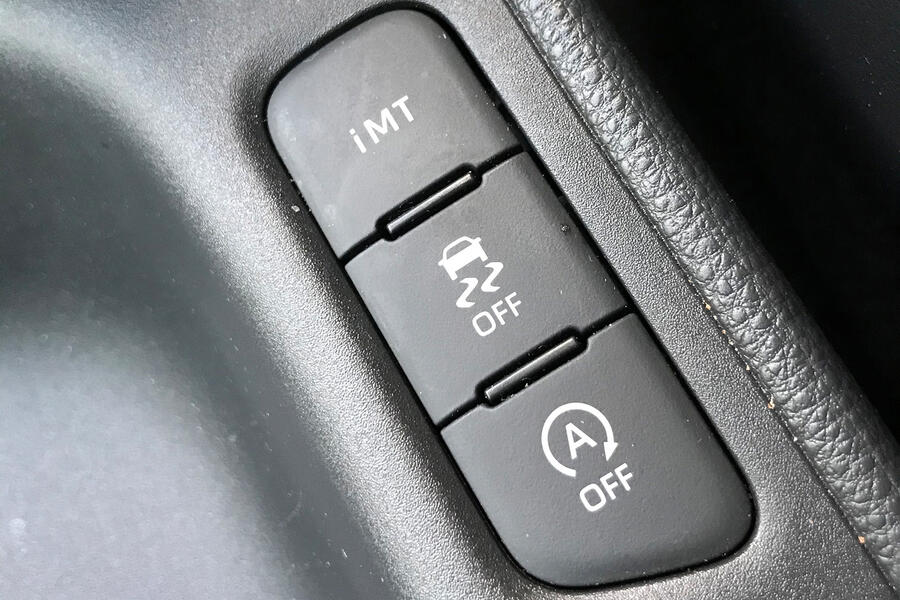 Back to the top
Life with a GR Yaris: Month 3
Time for a service – and to find out if the Circuit Pack is a must – 31 March 2021
We've reached the first service for the GR Yaris, which says more about its short (6000-mile) service intervals than it does the number of miles we've driven lately. Normally we would have taken the car to a main Toyota dealer (any can do work on the GR Yaris, even though not all carry demonstrators) to have the fixed-price £165 interim service carried out. (A 12,000-mile major service costs £375.)
However, Toyota GB has at its headquarters a GR Yaris without the Circuit Pack that's fitted to our car. I've been intrigued to test the difference, so for a back-to-back test, I took our black car to the workshop in Sussex and, while it was being looked at, headed across the A272 in the white car you see alongside it.
The base car is £29,995 and does without the serious hardware that makes up the £3500 Circuit Pack. So it has cast rather than forged alloy wheels; Dunlop Sport Maxx rather than Michelin Pilot Sport 4 tyres; a pair of open differentials rather than Torsen locking ones; a thinner front anti-roll bar; and softer front springs.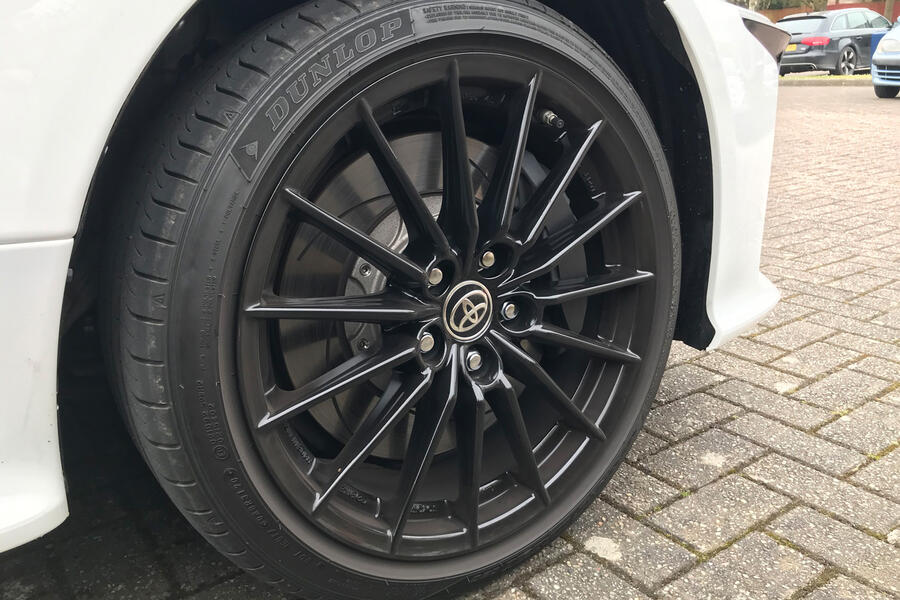 The differences between the two are subtle, but you feel them quickly enough. The standard car doesn't jolt so abruptly over bad surfaces around town; it has less corrupted steering when you get on the power; and its attitude changes less when you're throttling on or off in harder driving.
Sure, there are times when it doesn't feel quite so tied down. Throw in a crest or a camber and a bend together and the Circuit Pack car is more able, with extra traction and pace. But even in its regular form, the GR Yaris is a heap of fun.
As a pure road car, at the moderate speeds you can drive most of the time on the road, I really liked it, even on a cross-country hack.
Given the choice, then, which should you pick? Probably still the Circuit Pack, but it does depend. If you have a few different cars (I know some GR Yaris customers do) and want a tractable road car, a fun daily driver that you will never really drive flat out because that's what your supercar/Caterham/etc is for, the standard GR Yaris is a terrific thing.
If, though, as a car so special probably deserves to be, you would also use your GR Yaris for special occasions, the Circuit Pack is an obvious tick. I suspect that it will make your car easier to resell down the line, too. But I do wonder: what would it be like with the softer set-up but also the Torsen diffs?
Anyway, we've used our GR Yaris sufficiently hard that Toyota decided to change its front tyres during the service. They weren't legally near the tread limit, but the shoulders had been given a particularly hard time; shooting videos and conducting performance tests is harder than most track days and, now that most of that activity is over for this car, I will be keen to see how much longer the next pair lasts.
Michelin Pilot Sport 4s retail at around £100 a corner fully fitted, so with the interim service, that's £365. Bear in mind that alongside the annual/6000-mile service, the GR Yaris needs a six-monthly check of brake and clutch fluid, badged a 'safety check', at £50 (a warranty claim could depend on it being done). It can be done at the service if you cover sufficient miles in that time. Even in this year, I suspect we will.
Love it:
Modest flexing I love the way the bumpers flex when you press them: they're proper lightweight things.
Loathe it:
Wheels look dull The wheels look great when clean – a shiny metallic grey – but after one journey, their finish goes quite dull.
Mileage: 6440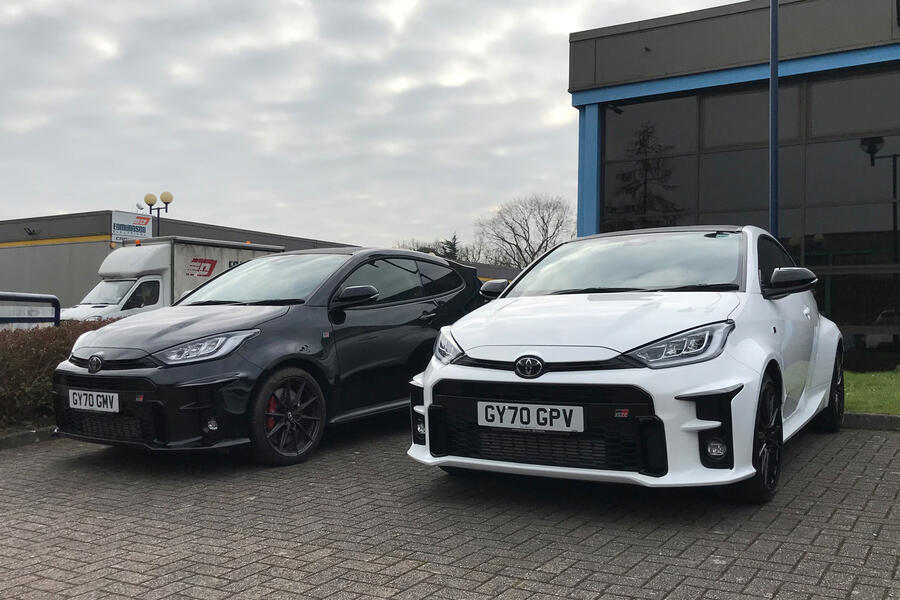 Back to the top
Thirsty, but not too thirsty – 17 march 2021
I can't help checking the oil level even though I can't recall a new car needing a top up. So, unsurprisingly, the Yaris hasn't needed one, but it does have a highly stressed engine: 159bhp per litre. I guess that's what necessitates the 6000-mile service and oil changes. But despite hard use, time on track and a road test, all consumables are holding up well.
Mileage: 5424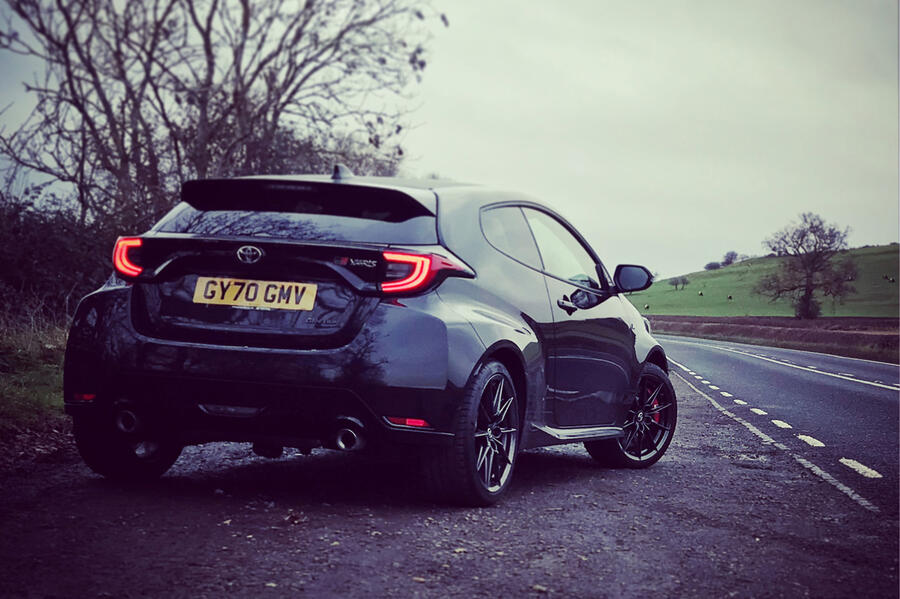 Back to the top
Life with a GR Yaris: Month 2
An impromptu twin test against mighty opposition proves our hot hatch's worth – 24 February 2020
How big a giant can the Toyota GR Yaris slay, I wondered? You can see my long-termer alongside a Nissan GT-R Nismo and an Alpine A110 this week in a story about cars we can't believe manufacturers had the nerve to make. So while we had the Toyota and the Nissan together, it seemed prudent to make a video of the two and rude not to ask how capable the hot hatch really is.
Normal testing rules applied. When we test cars or take lap times, the idea is to find a repeatable level of performance: an indication of consistent pace, not flat out, one-off laps that vastly increase the risk of falling off or burning through consumables. It's road car testing, so there's always something in reserve.
It was a cold, wet, foggy day on the short and bumpy Llandow Circuit. The advantage, then, was skewed in favour rather of the Toyota, rather than the GT-R Nismo – a car made for conditions (and circuits) rather grander than this.
The Toyota had superb composure. It has dampers that give great body control but also can thump over kerbs without unsettling it. And while you can flip a dial on the centre console to change the power distribution between the axles, whatever I did provided terrific traction. The GT-R has more power to worry about, obviously, so gave its rear wheels a harder time, but the Toyota was just less edgy less often. It was slower down the straight, ultimately, but tractable enough and grippy enough to be very slightly faster over this short distance, with a lap time of 48.9sec to the GT-R's 49.3sec.
The Toyota weighs some 400kg less than the GT-R, which partly offset the power deficit but, more importantly, meant it could brake a bit better, and its tyres found more lateral grip in higher-speed corners. Perhaps partly it's the tyres, too: industry engineers do say how good Michelin rubber can be, albeit generally a more expensive decision, and this Yaris runs Pilot Sport 4s (the GT-R was on Dunlop Sport Maxxes). Change any of the variables, – weather, track length and more – and I suspect it would be a different story.
But speed isn't everything; what excites me is how much fun a car is to drive, not how quick it is. Still, it's an interesting exercise, and on the day, in those conditions, the Toyota showed just how impressive it is.
Love it:
Reversing camera A car this size doesn't strictly need a reversing camera but, given how quickly the rear window grimes over, I'm glad that it has one.
Loathe it:
Fuel gauge confusion I read that the tank holds 50 litres, but the gauge shows near-empty before I get near to that. More bravery (and a jerry can) needed.
Mileage: 4220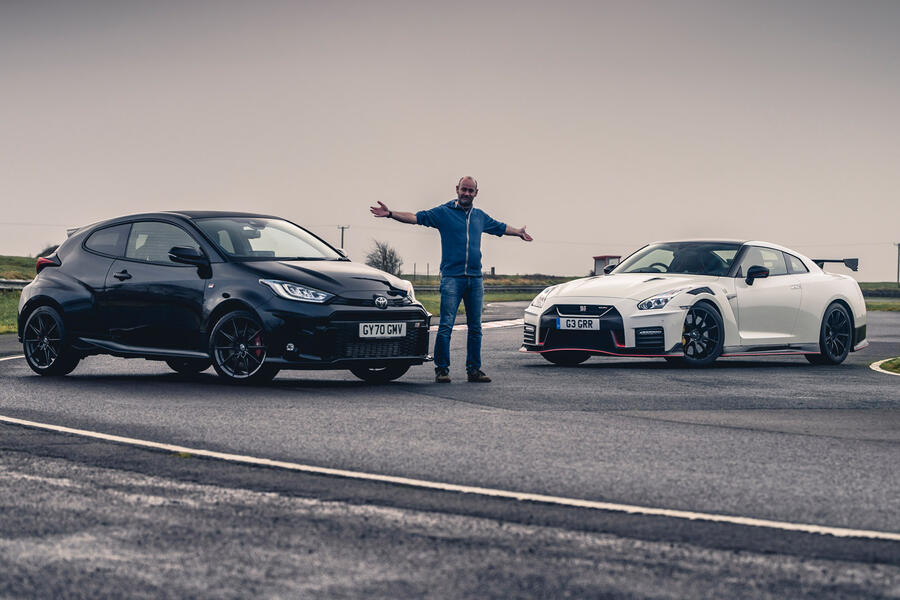 Back to the top
Life with a GR Yaris: Month 1
High maintenance – 17 February 2020
The GR Yaris has fixed-price service costs like other Toyotas but needs work rather more often. There are interims every 6000 miles, at £165, and main services every 12,000, at £375. There's also a recommended six-month brake-and-clutch fluid check (free if done at a service). Less travel means I won't get there for a few weeks and lots of short trips explains its 27.7mpg average.
Mileage: 4111
Back to the top
Can't quite see clearly behind you – 27 January 2020
The GR Yaris has a low-set rearview mirror, I think because the roofline slopes and the wiper-less rear window is small. Anyway, it can leave you with a blindspot, making it hard to see through some corners. You can raise the mirror slightly, but only by a centimetre or two, via a ball-jointed link. This, by the way, is, I think, the limit of my foibles with the GR Yaris. I'm loving this car.
Mileage: 2490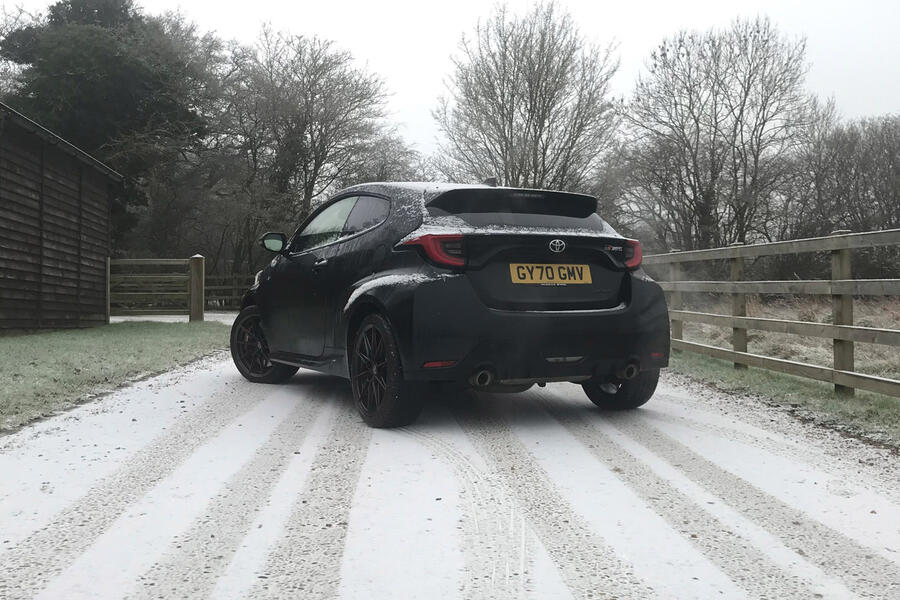 Back to the top
Welcoming the GR Yaris to the fleet – 13 January 2020
I mean, it's not like we haven't been saying it for ages: performance cars could do with being smaller and less powerful.
And yet is it only Toyota that's really listening? The GT86 (and its Subaru BRZ cousin) was my standout sports car of the previous decade. And the 2020s are off to a solid start with this, the GR Yaris, made to celebrate Toyota's involvement in the World Rally Championship but constructed not because it needed to build it, rather just because it wanted to.
The GR Yaris is barely a Yaris at all. (Which perhaps explains why some of my colleagues have occasionally referred to it as an Aygo or a Corolla by mistake.) Its chassis is a hybrid of Toyota's GA-B and GA-C platforms, with all-independent double-wishbone rear suspension joining MacPherson struts at the front, with plenty of strengthening and reinforcement, too, for the four-wheel-drive drivetrain. There are also lightweight aluminium and composite body panels. The roof is carbonfibre-reinforced plastic, then given a nicer carbon-look wrap over the top, which I'd be intrigued to see it without.
Only the lights, roof aerial and door mirrors are regular Yaris items. So this car feels bespoke in the same manner as a first-generation Ford Focus RS, or a Lancia Delta Integrale. It's old-school like a Subaru Impreza Turbo or Mitsubishi Lancer Evo. The sort of car that doesn't get made any more, in other words.
The car we're running arrived in Precious Black (difficult to photograph and keep clean but suitably moody), a £585 metallic paint option that's one of only four colours. Solid white is no extra charge, and there's a pearlescent red or white at £880.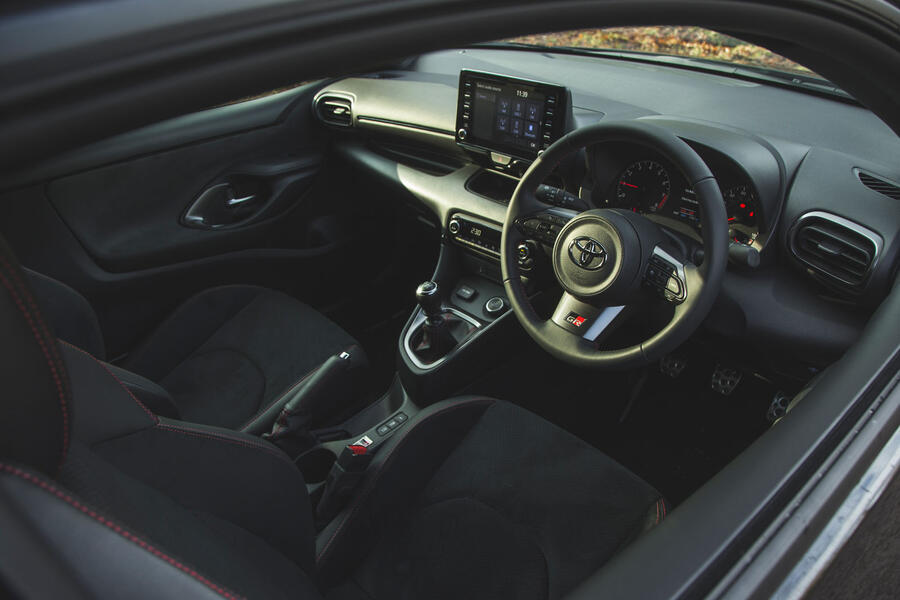 Other than that, the GR Yaris doesn't offer its buyers too many options. There's the standard model at under £30,000, but my suspicion is that a car fitted with one of two option packs will be more popular. The £2180 Convenience Pack has sat-nav, parking sensors, a blind-spot monitor, a head-up display and a JBL sound system.
The Circuit Pack, £3500 and equipped here, is rather more racy. Forged instead of cast 18in alloy wheels with Michelin Pilot Sport 4S tyres, Torsen limited-slip diffs front and rear, and stiffer springs, dampers and roll bars. To my knowledge, we haven't tried it without those and all of Toyota's UK dealer demonstrators are Circuit Pack cars too.
Otherwise, that's about your lot for options. An alloy wheel protector and a Safety Kit (warning triangle, first-aid kit, hi-vis vest) are the only other tickable boxes, to the apparent frustration of some potential owners, who'd like the heated seats and steering wheel you can specify in other markets. I'm generally a sucker for those too, but I'm coping. What I have found in really cold weather is that the Yaris defrosts and demists and warms up inside gratifyingly quickly. It is, after all, a Toyota.
So there are sensible things. It tells you not to accelerate too quickly when it's cold and an extended push of a steering wheel button turns off the default-on lane-keep assist. The cabin layout is very sensible and there's smartphone mirroring on the central touchscreen. The seats are supportive and the driving position's only disappointment is that the rearview mirror, seemingly positioned low and close to the driver, can create a weird blind spot, particularly on twisting roads, making it hard to see through corners.
A colleague thinks the brake and throttle pedals are too widely distanced for easy heel-and-toe gearchanges, but I don't find it too bothersome. It's quite nice to have such an old-fashioned foible; goes to show what an interactive kind of car this is. The gearbox is a precise sixspeed manual, and the handbrake a conventional lever that disconnects the rear half-shafts if you pull on it while the car is in motion. I'm pleased to report that it's quite powerful too.
I know it's daft. It's 2021: who needs a car that still thinks it's 1995? I think I do. I adore the fact it's compact (5mm short of four metres long, 1805mm wide across the body) and not too powerful, though with 257bhp from just 1.6 litres and three cylinders, it can feel a touch boosty. There is perhaps less mechanical feel to its controls than, say, a Honda Civic Type R, but the Yaris counters with the kind of agility and control that's genuinely rare these days.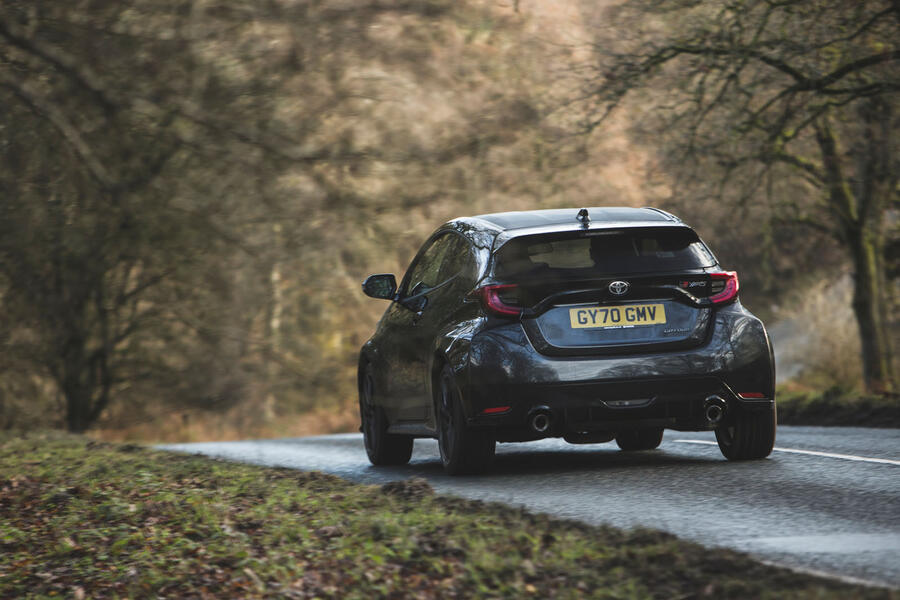 I'm finding it an incredibly easy car to warm to, both for little bits of drama on the right road, but also in daily life, and during days when you can do both. In some sports cars, you pull over during a decent drive for a rest or to take in the view and before you know it you'll have scuffed the nose on a rock. There are no dramas like that in the Yaris. Fast, enjoyable, discreet and compact. For a car seemingly inspired by the '90s, it feels incredibly relevant today.
Second Opinion
The queue of testers wanting to borrow MP's GR Yaris must be out the door already, so I'll bide my time. But I have to know if it's as much fun on a warm summer track day as it is on a sodden November B-road. I suspect it isn't quite. But I'm always delighted to be proved wrong by great cars.
Matt Saunders
Back to the top
Toyota GR Yaris Circuit pack specification
Prices: List price new £29,995 List price now £30,020 Price as tested £34,080
Options: Circuit Pack £3500, metallic paint £585
Fuel consumption and range: Claimed economy 34.4mpg Fuel tank 50 litres Test average 32.1mpg Test best 39.2mpg Test worst 15.7mpg Real-world range 353 miles
Tech highlights: 0-62mph 5.3sec Top speed 143mph Engine 3 cyls, 1618cc, turbocharged, petrol Max power258bhp at 6500rpm
 Max torque 266lb ft at 3000-4600rpm Transmission 6-speed manual Boot capacity 174-737 litres
 Wheels 8.0Jx18in, alloy
 Tyres 225/40 R18,
Michelin Pilot 4S
 Kerb weight 1280kg
Service and running costs: Contract hire rate N/A CO2 186g/km Service costs £165 Other costs £200 Fuel costs £1804 Running costs inc fuel £2169 Cost per mile 22 pence Faults none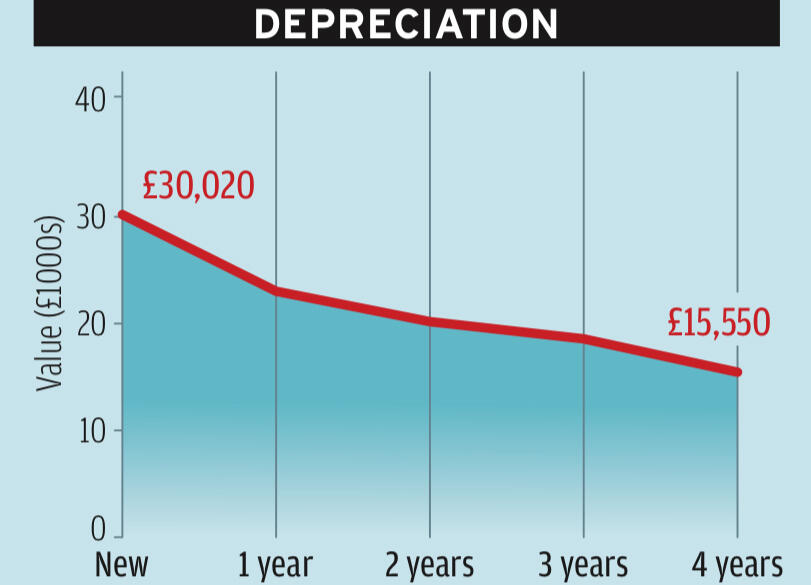 Back to the top